2017+ 86 & BRZ FLEX Z, FLEX A, & MONO SPORT Coilover Testing
We just finished up some testing on the 2017 Subaru BRZ (and which would of course affect the 2017 Toyota 86). While the vehicles aren't drastically different compared to 2012-2016 model years of the aforementioned vehicles (the 86 previously named the Scion FR-S), there are some small changes in suspension that affect how our existing coilovers feel.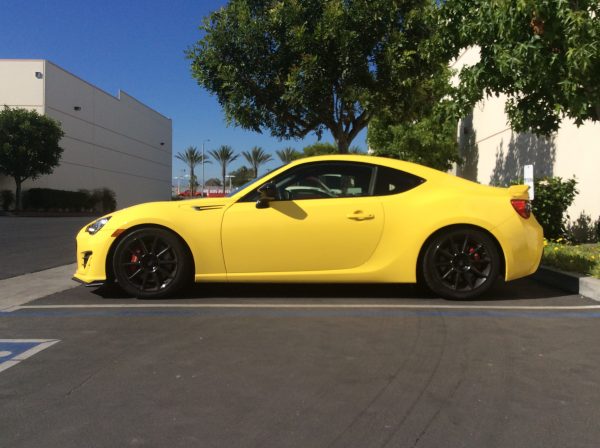 TEIN Japan currently sells part numbers VSTD8-C1SS4 for the FLEX Z line, VSTD-D1SS4 for the FLEX A line, & GSTD8-71SS4 for the MONO SPORT line for their market.
Stateside, we currently sell the VSQ54-C1SS4 for FLEX Z and GSQ54-71SS1 for the MONO SPORT line. For the FLEX A, we previously sold the VSQ54-D1SS4 model number. Now we sell the VSTD8-D1SS4. For the MONO SPORT line, we're looking to start selling TEIN Japan's GSTD8-71SS1, since there isn't much variation between the U.S. and JDM spec.
Phew, that's a lot of part numbers…..
So, why the change to FLEX A part number VSTD8-D1SS4?
The reason is that there are a lot of similarities between the U.S. part numbers for FLEX A and FLEX Z. If you're not familiar with either, we'll just say that the FLEX A includes our proprietary Hydraulic Bump Stop (H.B.S.) and is also a serviceable damper (can be rebuilt/revalved). In terms of cost, the FLEX A is $210 more.
Since the features are really the only noticeable difference, we had to look at damping force between the JDM and US kits to see what would work best for our market. The U.S.-spec FLEX A and FLEX Z both had very similar damping characteristics. Aside from the H.B.S. setup in the FLEX A's, they feel nearly identical.
With that said, we wanted there to be difference between the two kits. Something that will help differentiate the two when a customer decides what they'll be using the kit for.
So, we recently started offering the newer part number of FLEX A, the JDM version, part number VSTD8-D1SS4. These actually have a difference in damping, being more aggressive. We feel this may end up being a better option for the more-than-occasional track driven car owner. Being a serviceable damper, this also will allow owners the ability to revalve the dampers for different spring rates, if necessary. Along with being slightly more aggressive, the damping adjustment range is shifted up slightly, giving the end-user a higher range of tuning flexibility at the track.
That's not to say that the FLEX Z isn't at all capable of track use. However, we wanted this setup to offer greater compliance for a daily commuter, while still having an available adjustment range that allows for much more sportier handling characteristics. Comfort was just more of our aim for this kit, and it is greatly noticeable on larger bumps as high-speed compression is softer and more forgiving.
FLEX Z and FLEX A coilovers will look nearly identical. But, as mentioned in this blog, there are some features that FLEX A has over the Z line: Hydraulic Bump Stop, serviceable dampers (rebuild/revalve), and slightly more aggressive valving out of the box.
So, as far as a total breakdown of each suspension offering we have for the FR-S/86/BRZ:
STREET BASIS Z (GSQ54-8USS2)– perfect for daily driver not looking to sacrifice OE ride feel but improve handling performance, while being ride height adjustable.
FLEX Z (VSQ54-C1SS4)– high performance street kit, with 16-click damping adjustment and included upper mounts (camber adjustable for front).
FLEX A (VSTD8-D1SS4)– higher performance street kit/occasional track kit with aggressive damper valving, but with a greater adjustment range for ease of tuning. Included Hydraulic Bump Stop (H.B.S.) providing greater control and damping stability against repulsive compression force. Includes upper mounts as well (camber adjustable for front).
MONO SPORT (GSTD8-71SS1)– entry-level race setup with single adjustable damping. Monotube internal structure with greater oil capacity for better endurance and performance for long track stints. Also utilizes are Micro Speed Valve (M.S.V.) to improve low-speed damping curve. Includes upper mounts as well (camber adjustable for front).
SUPER RACING (DSQ54-81LS1)– 2-way damping adjustable setup for dedicated track cars, suitable for cars with R-compound or softer tires. Lightweight (full aluminum rear damper assembly), and included duralumin upper mounts (camber & caster adjustable for front) and camber washers for front.
Hopefully this info helps. If not, you're more than welcome to give us a call to discuss your suspension options!
Tags: 86, BRZ, Coilover, Dampers, Flex, FR-S, FRS, FT86, GT86, MonoFlex, Scion, Street Advance, Subaru, TEIN, Toyota, type, ZC6, ZN6
This entry was posted by Paul P. on Wednesday, June 28th, 2017 at 9:46 AM and is filed under
New Products
,
Now Testing
. You can follow any responses to this entry through the
RSS 2.0
feed. Both comments and pings are currently closed.