Discounted Coilovers for Formula Drift Irwindale
We'll be attending this year's Formula Drift event at Irwindale Speedway on October 13-14, 2017.
Rumors abound that this will be the last Formula D event at this specific track (which has been the same rumor for the past five years or so; seems to be a legitimate claim this time).
As always, we'll have our merchandise for sale, as well as some products on display.
We'll also be bringing some discounted coilovers that we brought to JCCS (which was kind of a last-minute notice).
*These are technically used coilover kits (test & evaluation). In actuality, they were mostly used for fitment testing and for obtaining ride height adjustment range data and were not really driven on. These kits will be sold as-is and without warranty.
See special pricing below:
*Prices are for cash payment (we will not be able to process credit card transactions during Formula D)

***We will only be bringing qty 1 of  each part number listed. The list below is solely to show applicable vehicle models by part number***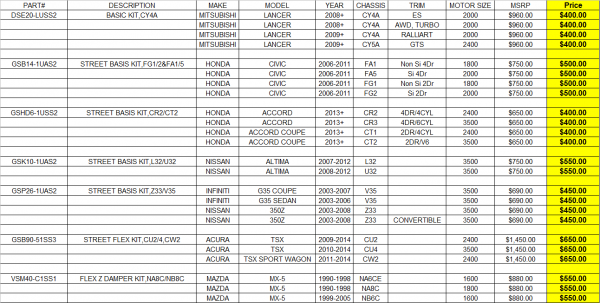 Tags: 350Z, Accord, Acura, Altima, BASIC, Coilover, Drift, FLEX Z, Formula, G35, Honda, Infiniti, Irwindale, Mazda, miata, Nissan, Street Basis, TEIN, TSX