New Products from TEIN USA
It's not uncommon for us to get calls from both dealers and customers regarding new products for specific vehicles. Typically, we make a new product guide every time we receive some new items from Japan. However, this information usually only goes direct to the dealers, and some dealers don't necessarily release this information to their customers.
But, we still try to make new product announcements for the public to see right on our homepage at www.tein.com!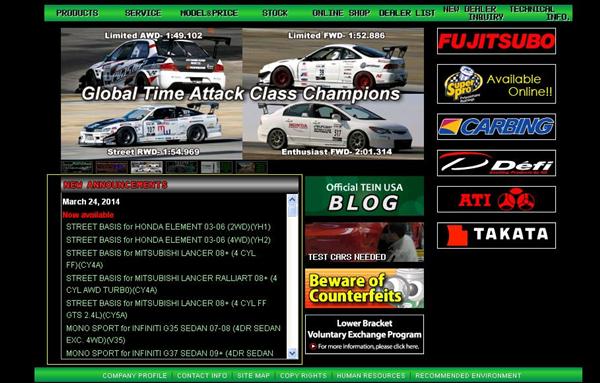 At the bottom left of this picture is our "New Announcements", which we update with any new information we have. Whether it is TEIN product related or even Defi or Carbing, we post it right here, and we also link the information to the appropriate product page so that you can get more information on it.
Again, we update this whenever we get new product in with our shipments from Japan. As much as possible, we try to update this information well before we receive it, but we get 2 shipments per month and sometimes we just try to consolidate all new items for that month into one announcement. It's kept us pretty busy, especially with multiple vehicle-specific applications being released for the new Street Flex and Mono Sport damper kits.
We certainly hope that helps you look for the product you need for your specific vehicle. That's not to say that we don't appreciate your calls. As always, you are definitely free to do so!!!
Tags: Coilovers, High.Tech, Lowering Springs, mono sport, new announcements, new product, S.Tech, Street Advance, Street Basis, Street Flex, tein.com