New Suspension Developments at TEIN
Always working to be innovative when it comes to suspension, we're constantly testing and developing new components in search of greater performance, longevity, and overall quality to our product lines.
We've possibly mentioned before that we had always planned to produce our own line of premium shock absorbers, designed to work with OEM springs or our lowering springs. In fact, if you have been to the SEMA show, you'll know that we displayed a prototype product called "Premier". We've noticed a great demand for such "replacement shocks and struts".  However, there are already a number of manufacturers making replacement shock absorbers and struts. We don't simply want to be another addition to all these manufacturers.
So, while considering what type of shocks we'd produce, we started to think about how we can just simply make a premium shock that has longer life span than other replacement shocks. After all, a reliable suspension is something we pride ourselves in creating (along with great value). Fortunately nearly all of our technologies in shock manufacturing high performance suspension can be applied to our premium line of shock absorbers.
Not being enough to set ourselves apart from other companies, we needed innovation. So, after much deliberation, we're adding our new Hydraulic Bump Stop (H.B.S.) to this premium shock line, and not to just a few applications. H.B.S. will be added to all of our premium shock absorber applications.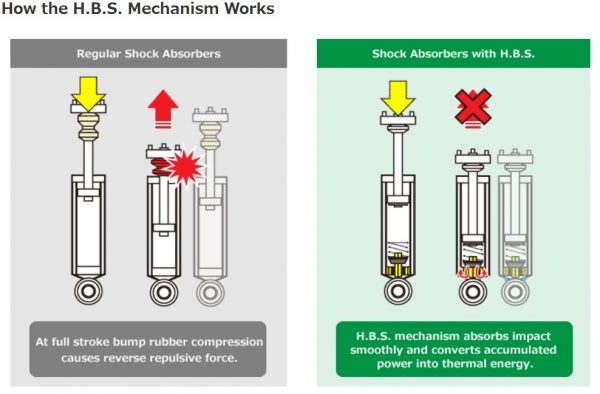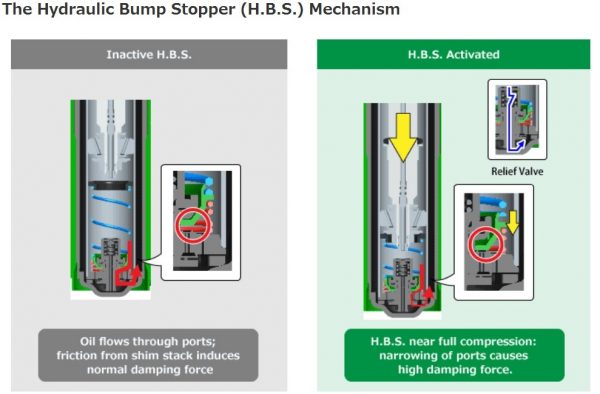 Structurally, these new shock absorbers will also benefit from increased rigidity and thicker than O.E. brackets/mounting points on the shock body. This contributes to greater steering feel for strut type applications and safety for the overall design. Internally the damper volume is much greater, allowing for increased damper oil capacity which, in turn, allows for greater long-term performance and reduced fade in damping force over extended usage. And, due to our use of high-strength steel for its construction, we can maintain a product with minimal to no increase in weight compared to O.E.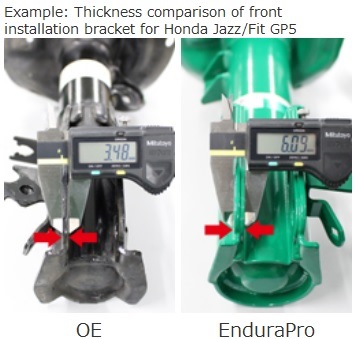 Since introducing this future new product at SEMA as our "Premier" line, our new premium shock absorber line is now the Endura PRO and Endura PRO Plus. Endura PRO will have a set damping rate per application, while Endura PRO Plus will have 16-way adjustable damping much like our STREET ADVANCE Z, FLEX Z, & MONO SPORT line. One exciting fact about the Endura PRO Plus is that some applications (depending on fitment limitations of our EDFC motor) will be compatible with our EDFC series controllers!
As mentioned, these premium shock absorbers will be designed to work with OE springs (and with TEIN lowering springs, for that matter). While being designed around OEM shock absorber dimensions, valving will be optimized for greater performance. Also, since this line is aimed towards customers needing a better OEM type replacement, this product line will be applicable to a wide variety of vehicles (compact, sport car, full-size sedan, minivans, trucks, & SUV).
As with all TEIN suspension, we will include a 1-year warranty against manufacturer's defects. But, best of all is our starting price of $105 per shock for Endura PRO and $130 per shock for Endura PRO Plus, making these an affordable upgrade!!
We're looking forward to this new addition to the TEIN suspension lineup, and we hope you are too!
Tags: absorber, Endura Pro, Endura Pro Plus, Lowering, OEM, Premium, replacement, shock, Spring, TEIN
This entry was posted by Paul P. on Tuesday, April 4th, 2017 at 4:04 PM and is filed under
New Products
. You can follow any responses to this entry through the
RSS 2.0
feed. Both comments and pings are currently closed.