Super Lap Battle/Global Time Attack 2013
Another year has passed, and we were waiting in anticipation to see what every competitor for this year's Super Lap Battle at Buttonwillow Raceway Park will bring.
Just like last year, TEIN staff attended to be able to assist any of the teams and drivers on TEIN suspension in any way possible. For us, it is great to get their feedback on our suspension and how it is performing for them. It also gives us plenty of insight on what vehicle modifications are being made and how we can help adapt their suspensions to their specific setups.
In total, there were seven vehicles using TEIN suspension. In no specific order,
Limited AWD Class- Evasive Motorsports' Mitsubishi Evo VIII (Super Racing coilovers)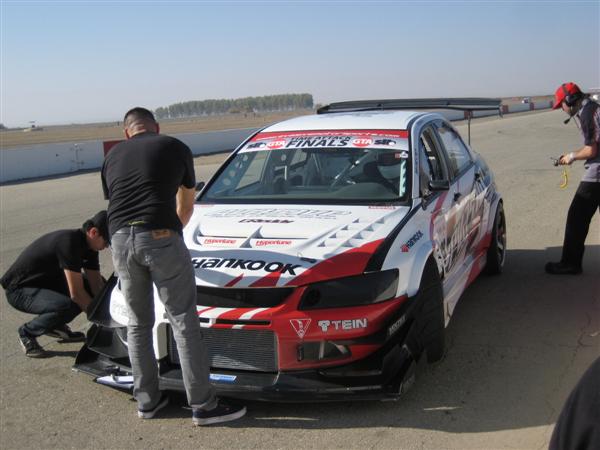 Limited FWD Class- Sportcar Motion's Acura Integra Type R (Super Racing coilovers)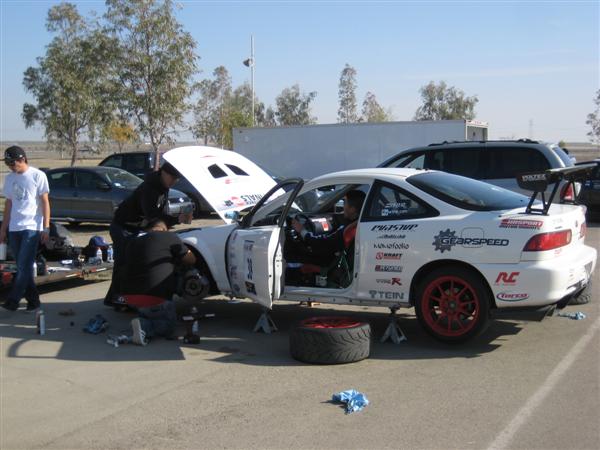 Limited FWD Class- Bobby Lane Racing's Honda Accord (CL7 Mono Flex coilovers)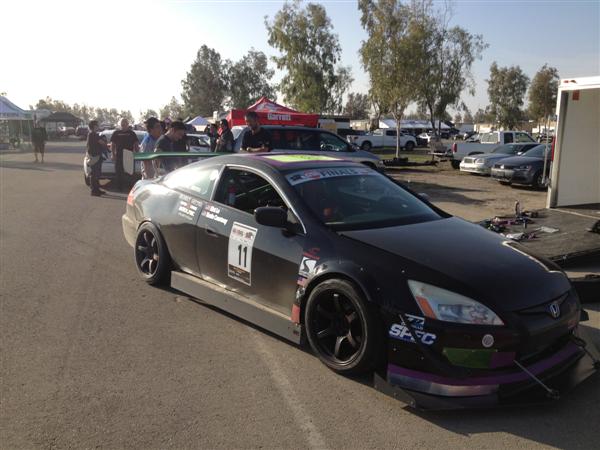 Street RWD Class- Will Wattanawongkiri's Nissan 240SX (Flex coilovers)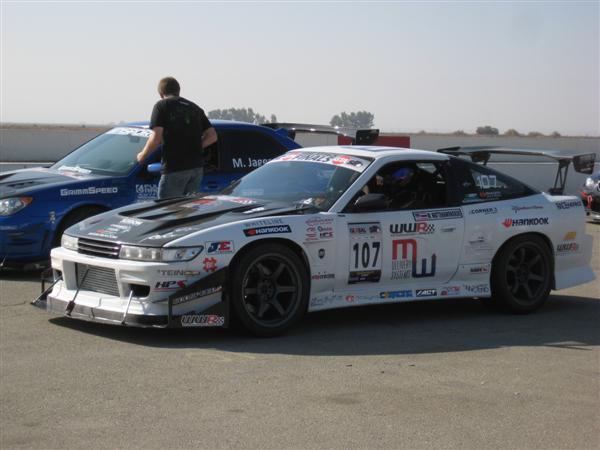 Enthusiast FWD Class- Pradana Wilianto's Acura CSX (FA5 Mono Flex coilovers)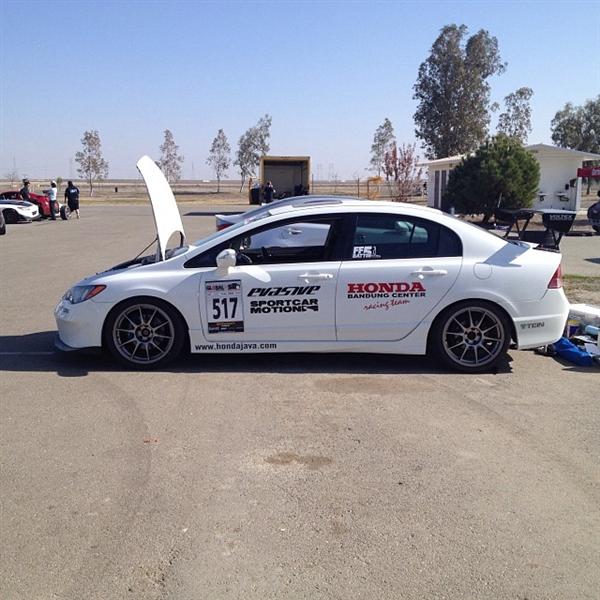 Street FWD Class- Ken Suen's FB6 Honda Civic Si (Mono Flex coilovers)
Street RWD Class- Ryan Houck's Honda S2000 (Super Racing coilovers)
Fortunately, once again, each team and driver had their cars setup very well, with only little input from us. A majority of time was spent with Evasive on their Evo to see if we can get the most out of a minimally tested new setup they're running (upgrades to power; different tire). So, there was a bit of a learning curve with this car.
The best part of the event was that many of these guys logged their fastest times in early sessions.
Sportcar Motion's Integra, with driver Tim Kuo returning again for this event, was able to shatter their old record of 1:54.xx with a 1:52.886, and that time held throughout the day giving them the win in the respective class! Mechanical issues prevented any further sessions for them, but the damage was already done. A new benchmark for Limited FWD has been set!
Evasive's Evo, plagued with some turbocharger issues (failure) and transmission problems, still locked in a respectable 1:49.102, taking the Limited AWD class win and getting very close to taking the overall win. Hopefully, with more testing and developing in 2014, this car will take top honors. It must be noted that this car skipped over a full year of development, as they focused on their Scion FR-S and Honda S2000 for last year's event. So, with that said, this year's finish is an impressive result. We were glad to speak with driver, and Evasive Motorsports co-owner, Mike Chang, to get his feedback. We'll be working with them more on this car, as well as a few other project cars in their stable, for 2014!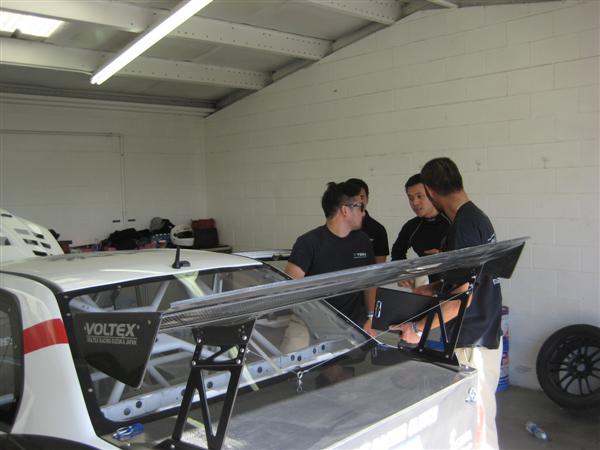 Will Wattanawongkiri's S13 240SX was able to clinch top time in the Street RWD class with a 1:54.969. He's been able to dial in his out-of-the-box Flex coilovers to work well with his vehicle, enough so that he could take the championships in various other Time Attack series' this year.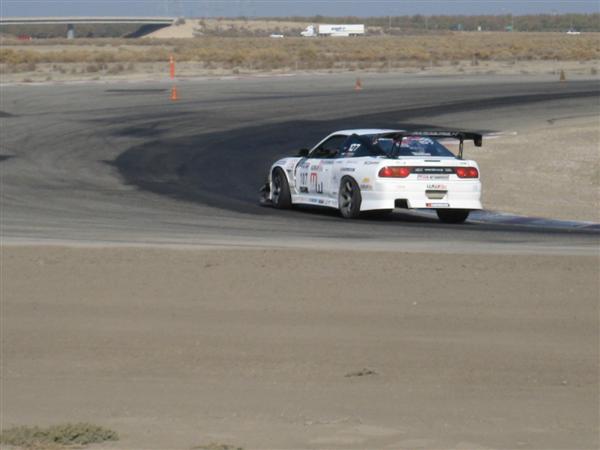 Bobby Lane Racing's Honda Accord sported updated aero (larger front splitter and wide fender to fit wider tires; side skirts; rear diffuser). They also had revalved their CL7 Mono Flex dampers for much stiffer springs. Prior to this event, then were hoping to get some testing done with this new setup, but a catastrophic wheel failure prevented them from making final adjustments leading to Super Lap Battle. Didn't seem to matter as they logged a 1:59.158 time, approximately 3 seconds better than 2012. Although unusual to see an Accord at a Time Attack event, Bobby Lane Racing showed that it can still be plenty fast for track duties.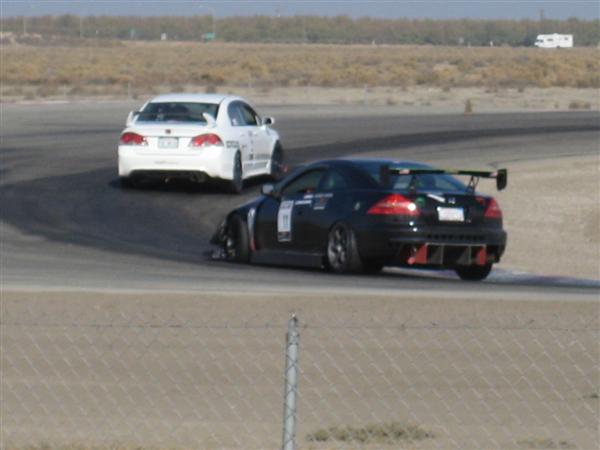 Pradana "Ping" Wilianto's Acura CSX dipped into a 2:01.314 ET. That's about two seconds faster than his time last year. He also got the win in his class!
Ken Suen brought out his new FB6 Honda Civic Si. Still a street car with full interior, modifications were minimal. In fact, he used the Mono Flex from his infamous "Big Red" FA5 Civic Si on this new car (had some modifications done to make it work. Other than that, front aero, larger wheel and tires, and brake upgrades were all that this car had. Not looking to break a new record, he still recorded a 2:06.271 lap time!
Ryan Houck's S2000, which was backed by our friends at Counterspace Garage, sported custom valved Super Racing dampers, along with some simple aero upgrades. His times during the first few sessions were looking very favorable for the Street RWD class. However, a major driver's side front brake rotor failure prevented any further outings. Quite unfortunate. Without a doubt, he's on pace to reset the current record. We'll see him next year!
So, that makes it 4 class wins on TEIN (Limited AWD, Limited FWD, Street RWD, and Enthusiast FWD)!
That's really good news for us. Once again, we went back to the office happy with the results for these drivers and teams. A huge congratulations to each and every one of these people, especially for their continued support for TEIN! In turn, we will be there to assist them as best we can, in the same way we strive to assist all of our customers, including YOU!
Until next year!
Oh, and apologies to our engineer, Shuichiro…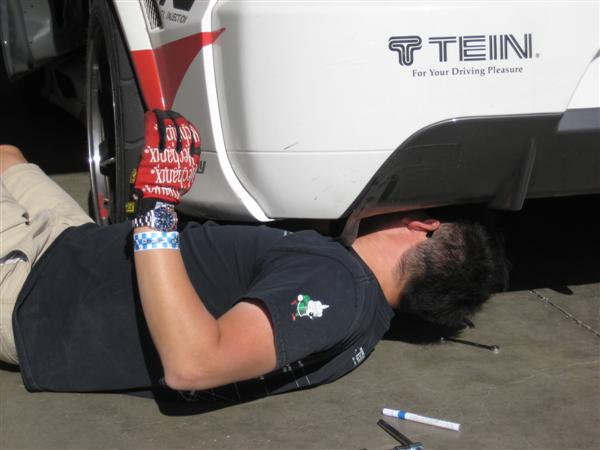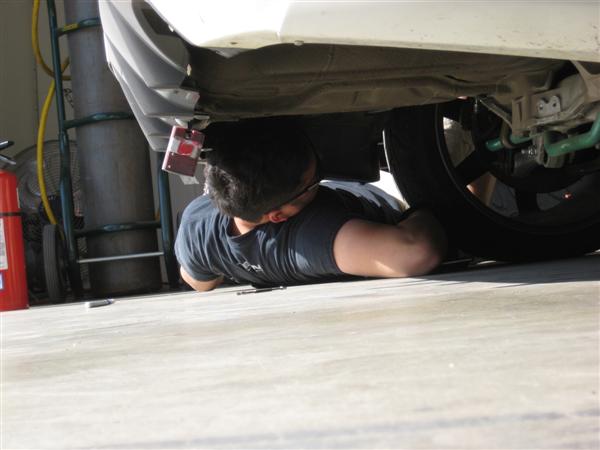 As you can see, we prevented him from watching any racing. Instead, we put him to work! SOWWY!!!
Tags: 240SX, Accord, Acura, AP1, AP2, Bobby Lane Racing, Buttonwillow, Buttonwillow Raceway, Civic, CSX, CT9A, DC2, Evasive Motorsports, EVO, FA5, FB6, Flex, Global Time Attack, Honda, Ken Suen, Mitsubishi, Mono FLEX, Nissan, Pradana Wilianto, Ryan Houck, S13, S2000, Si, SportCar Motion, Super Lap Battle, Super Racing, TEIN, Will Wattanawongkiri
This entry was posted by Paul P. on Thursday, November 21st, 2013 at 5:55 PM and is filed under
Events
,
Motorsports
. You can follow any responses to this entry through the
RSS 2.0
feed. Both comments and pings are currently closed.