TEIN Endura Pro Plus Shock Absorbers
This is probably the single most anticipated product from TEIN, for me at least. Why? Probably because I'm reaching a point in my life where I want a simple suspension setup that will work well, and I can do away with a bunch of features I will not really use often. In other words, I'm getting old and lazy.
The TEIN group has been discussing this new line, which is a premium shock absorber, for probably the past five years (to my knowledge). We've wanted to get into the replacement shock absorber line for some time now, but we wanted something that had an appreciable difference to the well-known aftermarket shock absorbers already on the market.
So, after all these years and years of discussion and product development, we now have our Endura Pro and Endura Pro Plus shock absorber line.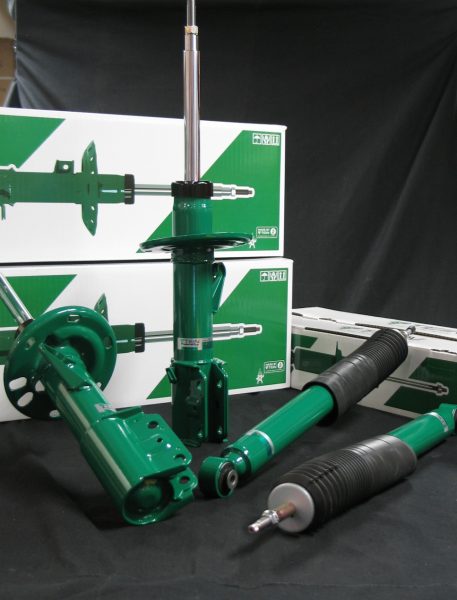 These shock absorbers are completely compatible with OEM vehicles. As stated, it is a replacement shock absorber. HOWEVER, it is far from a simple replacement. We've gone an extra step in making them a high performance shock absorber. In saying that, this product is not the same type of suspension as our existing line of coilovers, which in many cases offer a firmer ride and drastically reduced vehicle body motion (sway, squat, dive). The Endura Pro/Endura Pro Plus line does offer a very comfortable ride quality, but internally it is much different than a standard twin-tube shock absorber you'll find as an OEM shock.
For starters, we actually have increased the internal capacity of the shock absorbers. In most cases, our Endura Pro/Endura Pro Plus shock absorbers are the same length as an OEM shock (a few applications use a slightly shorter damper body), but we also use larger diameter damper bodies, thus the internal volume is greater. In doing so, we've increased damper oil capacity over a standard shock absorber for the same vehicle application. That translates to better endurance (long-term driving) and increased longevity. It also allows us to use a larger than OEM piston valve which provides a greater damping force range.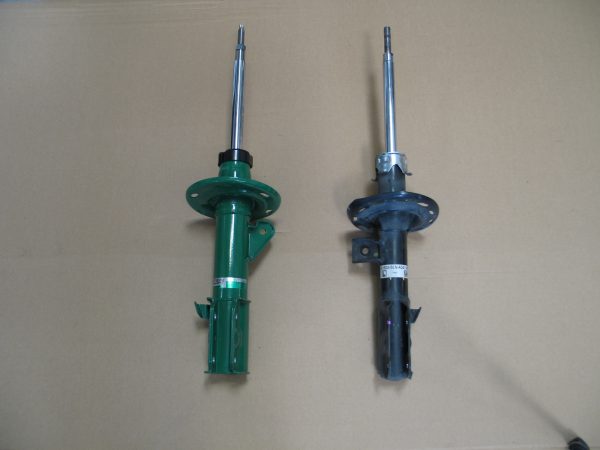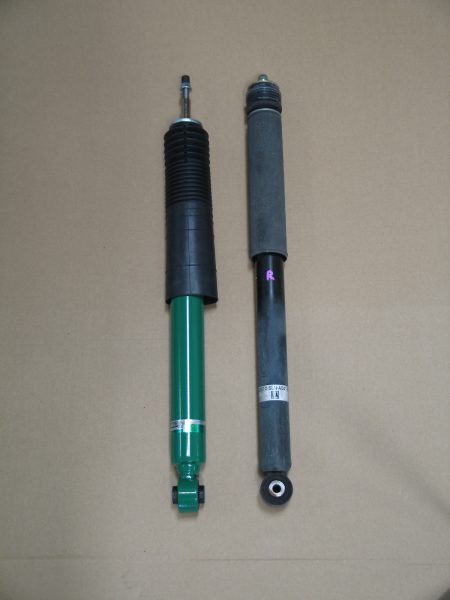 For strut type applications, we use thicker piston rods (22mm dia.) able to withstand greater lateral loading that struts are subjected to.
Since we use the same high-strength steel as used in our coilover kits, it allows us to reinforce areas of the damper, like the lower brackets on strut type suspensions, or the spring seat or sway bar bracket, without a large penalty in weight. In fact, for some applications the Endura Pro shock absorber is actually lighter than OEM!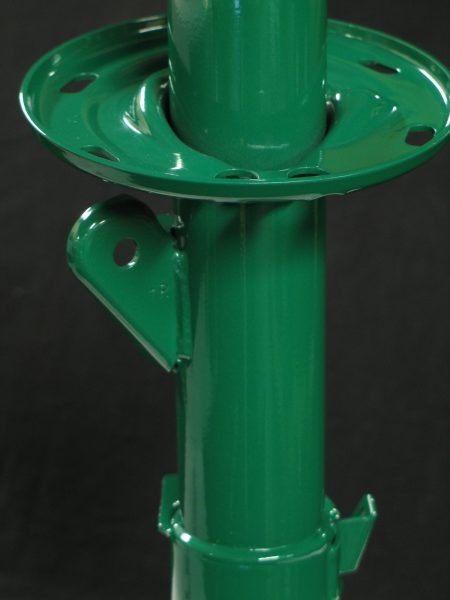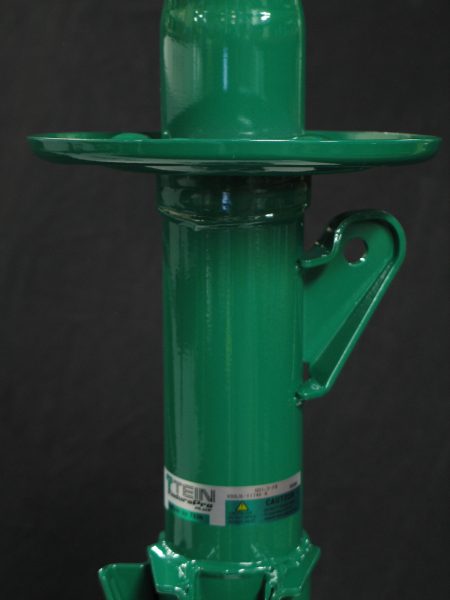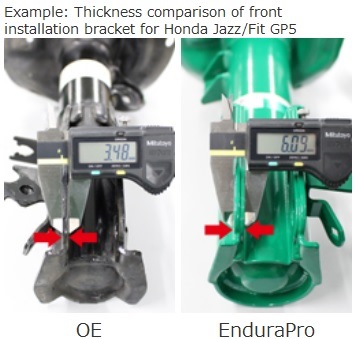 Depending on the vehicle application, we will include necessary hardware to make the installation easier, such as collars, bump stoppers/washers, dust boot, bump stop, etc.
One new feature recently only applied to the TEIN FLEX A coilover kit has now made its way into every Endura Pro/Endura Pro Plus shock absorber- our Hydraulic Bump Stop. With the aforementioned FLEX A line, the only other TEIN product to incorporate a Hydraulic Bump Stop is our Gr.N rally coilovers. The off-road crowd probably knows a fair deal about how a hydraulic bump stop works- it creates higher damping force on compression to prevent the suspension from bottoming out completely, then allows the suspension to settle in a very controlled manner on rebound. What you end up with is a reduction in suspension oscillation (excessive up and down movement, or "porpoising"). Never before has a replacement shock absorber ever had such a feature.
The Endura Pro Plus line, specifically, has 16-way damping adjustment, similar to our other damping force adjustable coilover kits like STREET ADVANCE Z, FLEX Z, MONO SPORT, etc. This gives the end user the ability to set their suspension to their preferences depending on their driving conditions. As an added bonus to having this damping adjustment, this technically makes the Endura Pro Plus shock absorbers EDFC series compatible! With EDFC, now you can control the shock absorber damping settings directly from the driver's seat. Opt for the EDFC ACTIVE or EDFC ACTIVE PRO series, and you'll get adaptive damping force control based on speed or g-force loading! EDFC is a universal application for our 16-way adjustable TEIN dampers, so any car can use this setup (some vehicles may require modifications or adapters to make the EDFC Motors fit properly)!
Lastly, the Endura Pro/Endura Pro Plus line adopts our new fully sealed structure in helping keep manufacturing costs (and MSRP) down. These shock absorbers will be available for sale individually, but we'll also be offering them as a complete set with TEIN S.TECH lowering springs!
So again, this new Endura Pro/Endura Pro Plus line is far from a simple replacement shock absorber, and now I can say I know that personally.
After constant nagging to my boss, I wanted to see if we would be making some for the GD3 Honda Fit (2007-2008). Since I've taken ownership of my dad's Fit, I've grown to love driving it. It's by no means a fast car (quite the opposite, actually. I'll just call it "brisk"), but it is small, lightweight for its size, and kind of fun to drive in a spirited manner. And it's a practical car for me now that I have a small family of my own. The Fit also saves me from wasting gas in my truck driving solo to and from work, so it's now my daily driver.
Now, with 80,000 miles, which is relatively low for this year vehicle, I can feel the suspension is not as it was when it was newer. Of course that can be from a number of things, but the shock absorbers are a pretty high wear and tear item in the suspension, so that felt like the cause. After removal of the shocks and compressing them by hand, there was still at least some nitrogen charge in all the shocks, but maybe not enough to really provide good rebound force.
Anyway, to get to the point, I finally got a set of Endura Pro Plus shock absorbers for the Fit!
DISCLOSURE– The Endura Pro Plus shock absorbers I'm using are designed for the Japanese market GD3 Honda Fit, which is not a direct fitment for the front.
This required some modification to the knuckle brackets by boring out the bolt holes to 14mm. Still, this isn't a direct fitment even after this modification. The struts are the same length as the US Honda Fit OEM strut, however the spring seat and sway bar bracket are 20mm higher than the OEM strut (fortunately this poses no clearance issues). So, this actually does translate into a slightly higher front ride height. For my Fit, it was approximately 12mm higher than stock ride height in the front.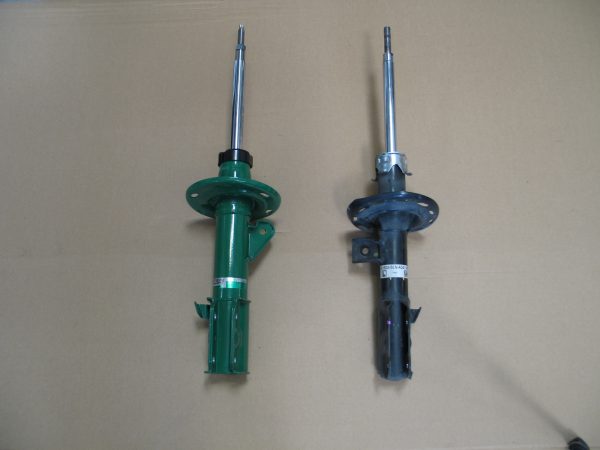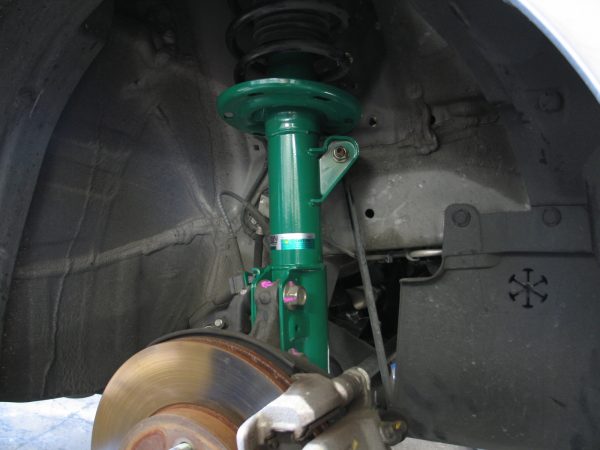 The rear dampers are a direct fit, so no problems there.
With the shock absorbers set at 8 clicks (middle) front and rear, the ride quality felt very much as I remembered the car feeling like when new. That was ten years ago though, so I really only have a memory to go off of. One of my co-workers said that the shocks set to 16 clicks (softest) was actually an improvement over the worn OEM dampers. At 0 clicks (stiffest) it is actually a noticeably firm ride quality, but far from being jarring (the Fit uses soft springs). I found that a 12 click front and 10 click rear was more to my preference. So I drove on that for about a week, until one of the guys here (Gonzo, aka Cpt. Slammo, aka Monster Tuck) kept telling me "it needs to be lower"…. ughhh.
I actually wanted to lower the car a little anyway. Go figure. I mean that's really what TEIN suspension is known for doing, so it's only natural to want to use the products I help sell. So, I bought a set of our S.TECH lowering springs for the Fit (part # SKB36-AUB00). Knowing that the front struts are now a bit higher than the OEM strut, I thought the car would look a little funny with a slightly raised front end. But, to my surprise the ride height actually has a relatively even drop front and rear (referring to tire-fender gap)! The front actually dropped a little over 2″ front and 1.2″ rear (we spec S.TECH's for the GD3 fit at -1.8″ front and -1.2″ rear). So even with the Endura Pro Plus front struts having higher spring seat position than OEM, it's nearly about the same ride height as our test data. That difference can be due to the strut mounts (being mostly rubber) starting to sag.
As for ride quality, now it feels more in line with how one of our coilover kits feel, like a STREET ADVANCE Z for example. Not incredibly stiff, but nice and sporty with good compliance for my daily commute. The extra flexibility in having damping adjustability is a worthwhile upgrade, especially if you're considering using lowering springs with new shock absorbers.
All in all, I'd say this is probably the happiest I've been with driving the Fit. The lowering springs really helped reduce the body motions (the Fit has a pretty tall roof line). The reduction in body sway is a dramatic improvement! I've found a damping setting on the Endura Pro Plus's that works really well with the S.TECH's.
In general, as a replacement shock absorber, the Endura Pro line is a great improvement over the factory suspension. Adding the adjustability I get with the Endura Pro Plus shocks gives me a chance to find a ride quality I prefer!
More information on the Endura Pro/Endura Pro Plus shock absorber line can be found on our website
Tags: absorber, Active, compatible, Damper, EDFC, Fit, gd3, Honda, Hydraulic Bump Stop, Lowering, OEM, Pro, replacement, S.Tech, shock, Spring, TEIN
This entry was posted by Paul P. on Thursday, April 12th, 2018 at 6:23 PM and is filed under
New Products
. You can follow any responses to this entry through the
RSS 2.0
feed. Both comments and pings are currently closed.