What is Wrought Aluminum?
We have some literature about our products that explain the type of materials we use in our suspension kits. One of the terms we hear for our spring seats and seat locks (for adjusting ride height, for example) and upper spring seats/adaptors  is that they're made from "wrought aluminum".
If you're like me, then maybe the first thing that comes to mind is wrought iron, as in wrought iron fences. Of course, this made me want to look up exactly what wrought aluminum is, since I couldn't get the picture of fence materials being used on our suspension….
A quick look for the definition of "wrought" describes it as follows:
"Beaten out or shaped by hammering"
In manufacturing, that would be considered forging. However, they can also be roll formed. Sometimes rotary forging can be used. And, looking further into our spring seat and seat lock designs, we use A6061 aluminum forgings that are T6 tempered.
This "T6" tempering is a precipitation hardening process that allows the aluminum alloy to increase its yield strength.
A6061 aluminum has become more commonplace in manufacturing. It is a lightweight and very strong aluminum alloy that is used in anything from aerospace industry to even the bicycle industry, and many other products are made with this material. As far as machining goes, it is a relatively easy material for us to work with.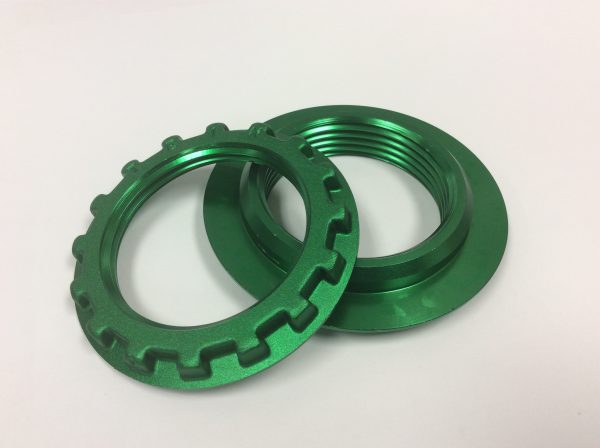 So, after all that bit of research, I'm now more aware of what wrought aluminum is. And after looking up what we use for our spring seats and seat locks, it's nice to know we're using high quality components for our suspension kits (which I'm already aware of!!!).
Tags: 6061, alloy, aluminium, Aluminum, forged, forging, Heat, t6, tempered, treatment