Geoff Stoneback Heads to Formula Drift Rd. 5
Here are a few words from our good friend, Geoff Stoneback, and his adventures at Evergreen Speedway for Formula Drift's Rd. 5 race!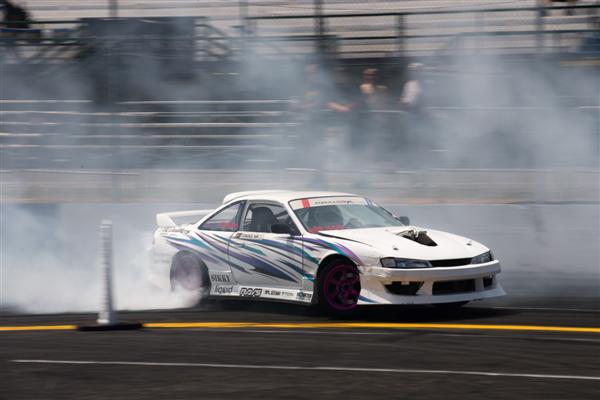 "On Thursday July 18th, my crew and I arrived at Evergreen Speedway for Round 5 of the 2014 Formula Drift season. We had double duties with Pro 1 & Pro 2 and were very eager to attack this aggressive course. Coming off of Round 4 and not qualifying, we had to mentally focus and prepare to go out for qualifying.
Thursday practice went well for us! The first time that we drove the course we realized how long and hard the bank was. Our alignment wanted us to push down further from the wall, but with the amazing crew that I have they stiffened the driver side to allow us to stay up in the outer zone and filling the touch and go area. We had a solid four hours of practice, until we needed to be at our Pro 2 meeting.
We had an hour of Pro 2 practice until it was time for qualifying. Our first run was the better of the two landing us in 4th place with a 74. Friday we had a long day of driving and meeting the fans. It started with a Pro 1 practice and into Pro 1 qualifying, but before qualifying we smashed up our third and fourth gear slider on our transmission taking us out of practice on Friday. Luckily, we borrowed some parts from Chris Forsberg and the guys at R/T Tuning got the transmission out and fixed in no time. We did a couple more practice laps and headed into qualifying.
On our first run we landed a 69 putting us in 27th place. Our second run we put down a 74 putting us in 17th place, our best qualifying spot yet. I was really excited to qualify so well until we heard that we were up against Daijiro Yoshihara. Although he was in a new vehicle, he is a former champion and in no way considered an easy win. Taking our momentum from Pro 1 into Pro 2 is always a great experience. Having that extra seat time on the track was our biggest advantage. After the top 16 ceremonies, we first faced Will Parsons in his Corolla AE86. I thought this could be an easy win as long as I do not take myself out. In our lead run I made the mistake of tapping the wall off the bank, sending me off course and giving him the advantage. On my follow run, Will tapped the second out zone wall in the power alley sending him off line. Knowing that I was at a huge deficit, I passed Will going into the inner clips giving us a OMT (One More Time). On our OMT run, I applied the pressure on him where it mattered and kept it consistent. We got the win and our next battle was against Jeff Jones.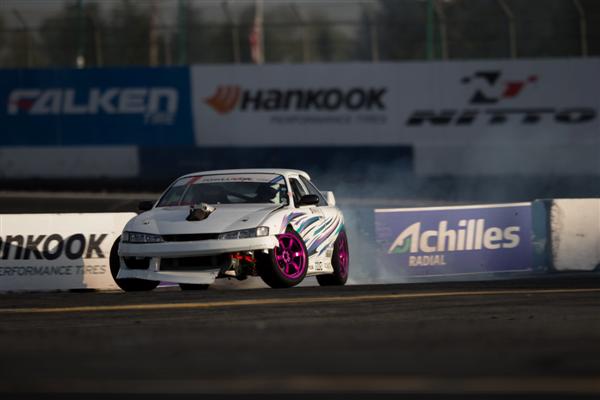 Jeff was looking pretty solid, but his runs were inconsistent. On my lead run going into the power alley, I hit a bump and it caused me to correct my steering giving us a OMT. On my lead run in the OMT, I got too caught up in Jeff's weird line off of the bank, almost hitting him so I backed off and ended up in his line of smoke and transferred into the outer clip 20 ft too early giving him an easy win. We ended up finishing Pro 2 in 4th place and tied in first with Dan Savage.
Heading into top 32 on Saturday, the team and I went over how we could make the car even better for Pro 1. We dialed in some more grip, knowing the competition was going to be fierce. We put down solid runs in practice, however at the end of practice we noticed our clutch slipping. We were literally the last run in top 32 practice and we were also the second battle so we had no time to get it swapped out. We adjusted the pedal so it would hold and hopefully last until we had time to fix it during the top 16 break. The first battle was against Dmac and Tony Angelo. On the first run, Tony followed and put his car into the bank giving them a 5 minute call. We were called to the line and hoped the clutch held throughout this battle. On my lead run, Dai did a little flick up to the bank to surprise me out, however I applied the pressure and put up a great follow. On our lead run, my clutch was slipping when I floored it down the straight away. I backed off the throttle and it hooked, but when I went to initiate, our car had so much grip it would slip in 4th gear. I bobbled twice and downshifted into 3rd where it held a bit but we didn't have 100% in it. We finished the lap but since we drove straight for half of the bank we gave an easy win to Dai. Although we got knocked out in top 32, Dai came up shook my hand and said "you are really good and I'm glad your clutch slipped because you had me." We laughed a bit and honestly it felt amazing hearing that from a former champion. We hung out and watched the rest of the field battle it out.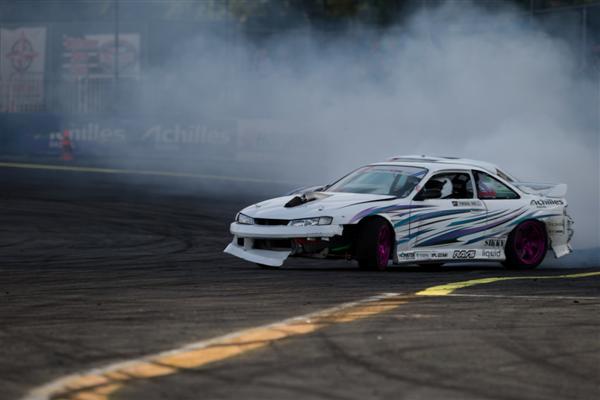 At the end of the weekend we are tied for 1st for Pro 2 and we are in 23rd place in Pro 1. We are still leading in the Rookie of the year race. After the abuse the car took in Seattle, we brought the rig home to make sure the car is 100% for Round 6. We had a great time meeting new fans and signing autographs and look forward to making better progress in Texas!"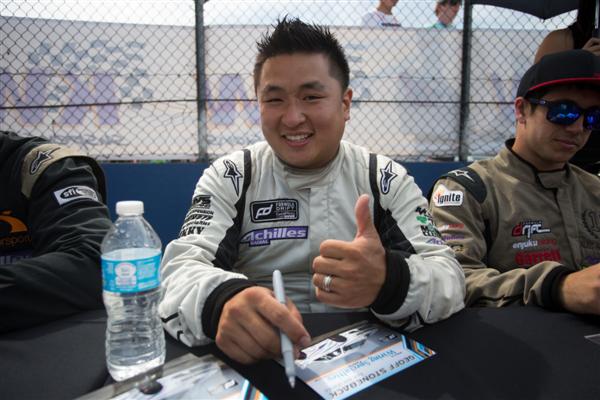 Sounded like a pretty fun weekend overall! Car problems will always happen. At least we know Geoff and the GS Drifting crew will do whatever it takes to get the car back on the track and put on a good show for the crowd, as always! Best of luck in Texas, Geoff!
Tags: 240SX, EDFC Active Pro, Evergreen Speedway, Formula D, Formula Drift, Geoff Stoneback, GSDrifting, Nissan, S14, Super Drift, TEIN
This entry was posted by Paul P. on Wednesday, August 20th, 2014 at 1:47 PM and is filed under
Events
,
Motorsports
. You can follow any responses to this entry through the
RSS 2.0
feed. Both comments and pings are currently closed.