Geoff Stoneback's Report on FD Texas
 Our good friend Geoff Stoneback has made a pretty great impression on his rookie year under the Formula Drift series, especially in the Pro 2 category, which he currently leads.
It has been far from easy. Geoff and crew have had to learn along the way just where they stack up against the heavily funded teams we all cheer for and are familiar with. Newcomers never have it very easy in this competitive sport. We're glad to see Geoff sticking to it and giving it his all.
Round 6 in Texas was another tough event. Here's Geoff's report: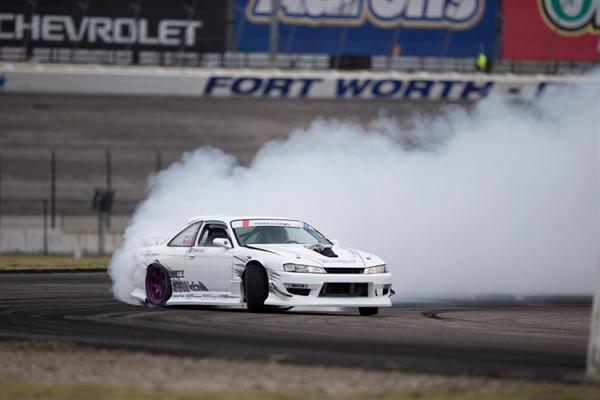 "After a tough defeat at Round 6 Formula Drift, we brought the car back to R/T Tuning to fix our drivetrain issues and make the car 100%. We had enough time to get the car working perfect while also adding a 100 shot of nitrous to keep up with the horsepower wars. We headed to Texas, hitting some scenic routes and stopping at skateparks to ride our BMX bikes. We arrived on Tuesday, hung out with our friend Nate Hamilton and did another once over on the car.
Since we did Pro-Am with Lonestar Drift last year, qualifying first and finishing on top of the podium, we felt very confident going into this round. However, this year the course was changed a little bit with the run up being cut about 100 ft. The clipping points were all moved up 20 feet for the first outer and the second outer clip. They added a second inner clip around the big sweeper, which would drastically change how tandems would be run. A third outer clip was added at the end of the sweeper as well. I didn't think this would be a drastic change but it took a couple runs to get used to it, but it didn't flow as well as the previous year.
We made tiny adjustments on the car during early practice and headed into pro 2 practice and into qualifying. The weather was very odd during Texas, with temperatures in the 70s, totally different from last years 110 degrees. During Pro-2 Qualifying it started to rain and we went out to make our first pass. We landed with a score of 68 landing us in 2nd place. Before our second run we were bumped out to the 6th seed and I was ready for the second run! The run started out perfect hitting every clip just how the judges wanted it. As I was entering the sweeper my serpentine belt ripped, I lost power steering and ended up off track getting a 0, ending with qualifying in 6th place. The team and I stayed late, fixed the issues from going off track and put on a new belt after inspecting each pulley.
Friday practice went around and the rain still came. We kept our rain setting on and went out for our practice runs. We felt good going into it and as we did our first Pro-1 qualifying run I ended up with a 69. The rain dried up and the track was getting gripper and people started to make some smoke. We switched to our dry setting and prepared to lay down a solid run to keep us in top 32. We qualified a lot better than some of the top guys so I knew that I had to step it up and secure a good qualifying spot. Our second run landed us in 17th place with a 76. We were set up to go against Conrad Grunewald in Pro-1 Top 32.
After hitting the Pro-1 drivers meeting, it was time for Pro 2 Top 16. Our first battle was against a long time friend and old Team mate Dennis Mertzanis. We led first and on the first turn, Dennis went off track giving us a huge advantage. During our chase we applied pressure throughout the whole course and got the win. Our second battle in the top 8, would be against Jeff Jones. He beat me last time in Seattle, so I definitely needed this win. He led first and we put great pressure on him especially in the sweeper. In our lead run, we laid down a great run, gapping him a couple car lengths and got the win. Moving up into the final 4, we face Brandon Witnick. I led first and had the advantage with him barely anywhere close. In our Follow run, I had to play catch up and went to aggressive into the sweeper, almost spun, giving him an easy win.
Saturday was another day. We wiped the slate clean and stayed positive. Practice went well and we were up against Conrad Grunewald in Top 32. On our follow run, he left us off the line but caught him through the first outer zone and was door to door the entire run. I felt amped and was ready to lead. On my lead run, I came off of the inner clip weird and shot me off line through the whole track. Entering the sweeper I threw too much angle and scrubbed too much speed and Conrad made contact with me. It was deemed my fault and Our weekend was ended.
Although we had a tough weekend physically and mentally, I had a great time hanging out with fans signing autographs and taking pictures. We finished Pro-2 in 4th place, still keeping 1st place in the standings. in Pro-1 we only lost one position and are currently in 24th place. We have a great chance in winning the first Pro-2 championship as well as Rookie of the year!
Thank you for support!"
We now go into the final round at Irwindale Speedway on October 10-11. We hope to see some great results from Geoff. Most importantly, we hope to get to hang out with this swell guy!
Here's a great in-car from Geoff at Texas!
Tags: 240SX, Formula D, Formula Drift, Geoff Stoneback, GSDrifting, Nissan, S14
This entry was posted by Paul P. on Monday, October 6th, 2014 at 5:18 PM and is filed under
Motorsports
. You can follow any responses to this entry through the
RSS 2.0
feed. Both comments and pings are currently closed.