Decisions Decisions Decisions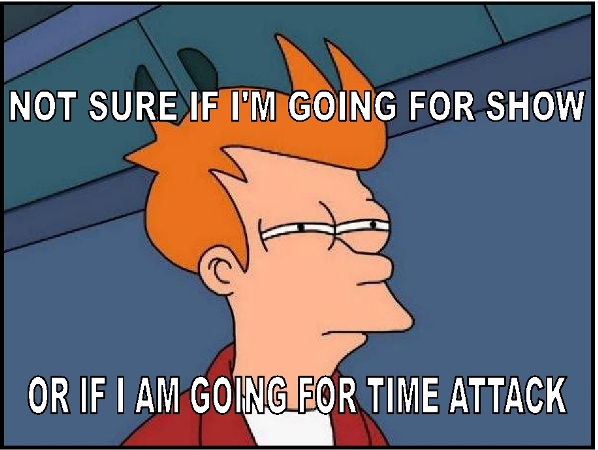 Maybe this post should be renamed as "I'd like to buy a Swiss Army Coilover kit, please?" Ha.
Adjustable suspension is tricky business. Not so much in how it operates, but more so in regards to what is really necessary to have. Many consumers have the understanding that adjustable suspension gives their car a certain duality, like going from Clark Kent to Superman, or Superman to Bizarro if that's your thing. Please don't take offense. I am very much the same way.
I know most car guys looking into adjustable suspension think that this is the key to having a nice, supple ride on the street while having the ability to change to a complete race setup with just a few clicks of the knob. But, what many fail to see is that it isn't completely possible to have an "All-In-One" suspension set to do exactly what you want it to do when you want it to.
We've mentioned before about this. It's nothing new, really. It's just more of a follow-up from a previous post.
We do our best to work with the consumer to find the ideal kit for them. We ask a ton of questions ranging from what is the main use of the vehicle, and even what type of tire they use, or what other modifications to suspension and chassis they have made, and just about everything in between. We cannot automatically assume that the Super Racing dampers meet every customer's criteria.
As a suspension manufacturer, we have to take into account many factors when it comes to producing suspension packages. Likewise, we have to consider the vehicle platform we are planning to make suspension for. Not all cars are destined for track duty only, and some are just not as tuner-friendly. Deciding on what suspension packages customers will most likely need is far from easy.
For example, some consumers have one car that serves strictly as a daily driver. Like many consumers, they are only looking to have a nice drop in ride height to reduce that unsightly fender-wheel gap. In many cases a lowering spring will suffice.
But, some customers would rather avoid the hassle of using a lowering spring and just jump into a matched spring and damper set (coilovers, in our case). It's not uncommon for salespeople to try and upsell customers to a coilover set, especially if they factor how many miles the customer has on their original struts and/or shocks- many vehicle manufacturers recommend inspecting/replacing struts and shocks after a certain amount of miles, such as 30,000 miles. So to get their customer to replace the shocks and struts by going with a coilover kit like our Street Basis dampers isn't such a bad idea, again assuming that they NEED to lower their car.
Sometimes it goes up from there. Maybe the customer not only wants to lower their daily driver, and they want to be able to adjust it to their preference (a very subjective term, mind you). Or maybe it's because the customer knows that adjusting ride height on coilovers will alter the ride feel (due to spring preload). Having an adjustable damper can help alleviate the issues with fast damper rebound because of higher ride height settings (again, because of spring preload). There are several benefits to why a customer might want to look into our Street Advance dampers.
The above examples really just apply to street-oriented cars. But, some customers may want even more. And yes, we have more! And of course, more damper features translates to higher costs, depending on what they're looking for.
We know of many customers that use their car for both daily commute and also for occasional track use. Coilovers like the Type Flex are a good compromise between street compliance and entry-level track use. Keep that word in mind- compromise. Type Flex dampers are much more aggressive in spring rate and have dampers valved appropriately for those spring rates. But we also have to factor ideal damper stroke length. We've also designed the Type Flex to be full-length adjustable. This lets the customer alter ride height to their preference (again, subjectively speaking. We don't recommend slamming your vehicle for daily use) without altering spring preload. This is possible because the full-length adjustable dampers use a separate lower mounting bracket, making the whole damper telescopic- you can lengthen and shorten the overall length of the dampers. The spring is still adjustable for preload using separate seat locks. For most cases, leaving the spring at zero preload provides the best ride quality. We've also included our own upper mounts for this application, some of which are like the OE mounts that use rubber isolator bushings and some that use spherical joints (pillowball).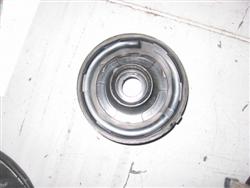 OE upper mounts are usually a stamped steel item that uses rubber bushings and pads to help isolate road and suspension noise. Although great at reducing NVH (Noise, Vibriation, & Harshness) to some degree, some people will say that it reduces steering feel and response.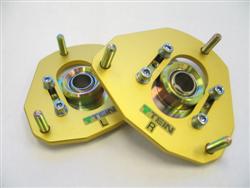 We have optional pillowball upper mounts (standard on a few applications such as SS-P, Type Flex, Mono Flex, Super Drift, and Super Racing dampers. These units have spherical joints with teflon lining on the inner race to allow for smooth articulation of the suspension at different angles of deflection. The drawback is increased NVH, but the payoff is much more direct steering feedback and response. This picture shows an application for strut type suspension, allowing camber adjustment.
Again, the Type Flex is designed with a completely different mindset. Customers that utilize this setup for the street will find it to be stiff when compared to Street Basis or Street Advance dampers. But the setup has many more merits on the track.
But how is the Type Flex an "occasional track use" type of kit? Well, that's also subjective as any of our kits are a good starting point into high performance handling (we can revalve all of our dampers to use different spring rates). The Type Flex is just a better out-of-the-box setup in bridging the gap from street car to track car. "Occasional track use" can mean many things for consumers. Maybe they still feel that this suspension is not as aggressive for their needs. Knowing what modifications the customer has done to their car helps us in deciding what will best fit them. Again, we also have a revalving service available if they need it.
I personally really like the Type Flex dampers because of their versatility and cost to maintain being pretty affordable. Just my preference. I don't have a ton of money to shell out for car parts. So, I really put thought into what I need before I buy.  I probably account for only a small percentage of car enthusiast. I'm sure other guys purchase and change out parts quite frequently for this to matter to them.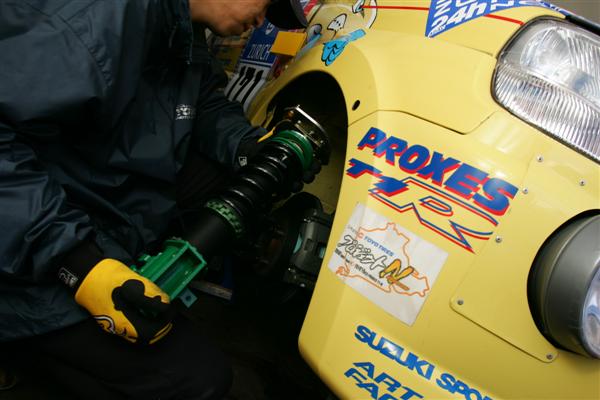 Who says you can't use a twin tube damper for racing? TEIN Japan had a custom valved Type Flex damper kit in use during a Nurburgring 24 Hour Race as shown in the above picture.
But guess what, it goes up from there. Super Drift, Mono Flex, N1, HG, Group N, and Super Racing dampers are some of the other offerings we have designed for customers that need more. It just depends on what you will be using the car for.
If you called saying you absolutely must have our Group N. dampers for your daily commuter, I'd actually think you're pretty awesome. But seriously, putting big money down on a set of these for street driving is rather pointless. Plus, the price tag is not for the faint of heart. This kind of product is aimed towards motorsport teams and privateers that have the type of funding to keep a rally car running.
Most aftermarket performance suspension is viewed as a customizable platform. Changes can be made to accommodate the customer's needs. We have the benefit of providing stateside service for our products. Other manufacturers may not. It doesn't make them a terrible company. In their own right, they've created a package that meets their customers' needs. We feel the same way. We just want to be able to have  a product that the customer can be satisfied with while keeping their costs down to a minimum. Of course, we try to make a mass produced kit that has all the features a customer may need.  But what works for some may not work for others.
So, before you decide to go through with your suspension purchase, please outweigh the pros and cons of each package and really think about what it is you need (NOT WANT). As always, you're more than welcome to give us a call or shoot us an email to discuss your options. The saying "you get what you pay for" isn't exactly a negative thing. You want to get what you need and not have to pay more for something you can do without.
And if you still can't find what you're looking for, we can always consider custom one-off suspension through our Specialized Damper Program. Just sayin'…..