Defi CAN Driver Gauges
Defi has created a new revolutionary line of gauges! This time, the gauge set is a much more simple installation for OBDII equipped (compatible with ISO-CAN) vehicles.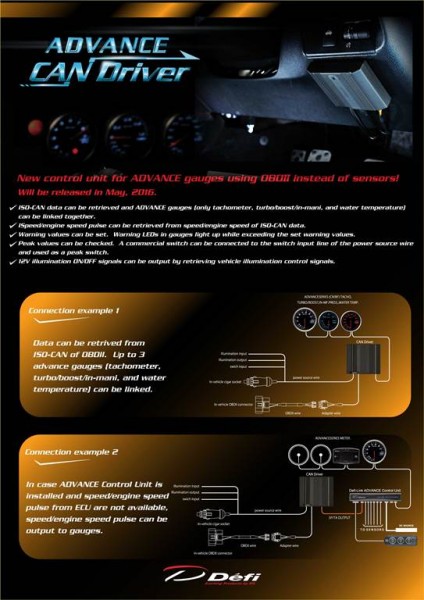 By using an OBD port harness, the Defi CAN Driver can link up to three gauges, and these gauges do not require the use or installation of sensors/sending units typically supplied with Defi gauges. In other words, you can now display factory engine parameters such as Boost, Intake Manifold Pressure, Tachometer, and/or Water Temperature.
This is the perfect compliment to many newer vehicles that don't even display such parameters anymore. A lot of cars do away with water temperature readings and simply show you a cold or hot light. And yes, we still manufacture cars without tachometers (for cars that still use internal combustion engines).
CAN Driver was developed on the success of the Smart Adapter series, which is also capable of pulling all engine parameters from an OBDII port. The factory ECU is responsible for all engine function, so it isn't as if the OE ECU is terrible. It's the way engine vitals are being displayed on factory gauge clusters that is the biggest problem. As we've mentioned in previous Defi related posts, a lot of car manufacturers chose to use as affordable a gauge cluster as possible. That means sacrificing performance (and true readings) for a more aesthetically pleasing gauge display.
The obvious benefit of the CAN Display system is that you no longer have to locate a spot to install aftermarket sensors, or resort to aftermarket adapters like oil filter sandwich adapters, to make them fit properly. The factory sensors are more than adequate. The real problem is either your car doesn't have these engine readings, or the readings are inaccurate, which many OEM gauge clusters have issues with. To have a properly functioning gauge to provide you with imporant engine vitals can be extremely important, especially to those that have modified their engine for more power. Not being able to monitor items such as pressures and temperatures can lead to detrimental engine failures. Best of all is that this is all plug and play. No need to solder any wiring (unless possibly you're link the Advance Control Unit- the Control Unit may suggest soldering for power supply), and you can simply unplug all the components within a couple of minutes, if not less.
With the Defi CAN Driver setup, you will have real-time data of your engine's vitals, and with the reknowned Defi precision and performance they've made their name on! Not to mention that Defi gauges give your car a great look!!!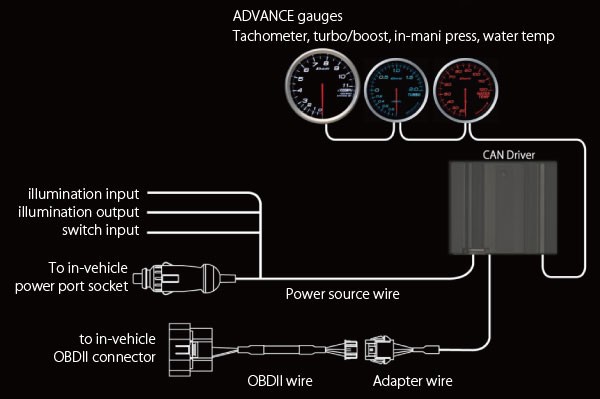 The diagram below shows an Advance ZD (DF09701) unit installed. This is only possible by also installing the Advance Control Unit (DF07703) in conjunction with the CAN Driver. The use of Advance ZD is for customers that also want to obtain speedometer using Defi's system. However, it is not necessary if you only plan to use CAN Driver to power one of the three gauges (Boost, Intake Manifold Pressure, Water Temperature, and/or Tachometer).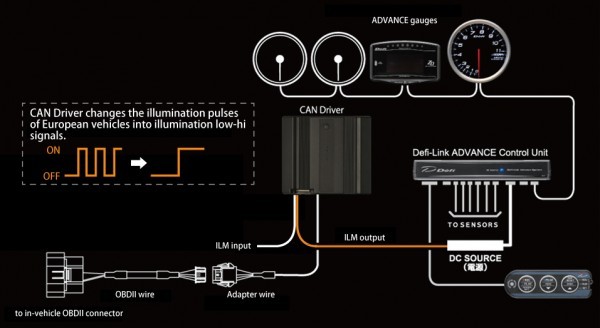 There will be four available part numbers for the CAN Driver series:
DF15601- Defi CAN Driver (msrp $189)
DF15701- Defi CAN Driver + Advance BF 60mm Tachometer set (msrp $377; ***special order part number***)
DF15702- Defi CAN Driver + Advance BF 80mm Tachometer set (msrp $412)
DF15801- Defi CAN Driver + Advance A1 80mm Tachometer set (msrp $447)
From there you can add any of the following gauges: Boost, Intake Manifold Pressure, and/or Water Temperature.
For the upcoming new Advance A1 gauges, the applicable CAN Driver  gauge part numbers are:
DF14802 – 2 Bar Boost Gauge (msrp $215)
DF15302- Water Temperature (msrp $215)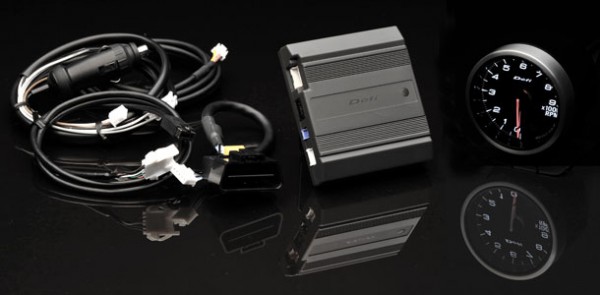 The new CAN Driver series is set to be released in the U.S. in limited supply by the beginning of Summer 2016!
Tags: Advance, Boost, CAN, DEFI, Driver, Gauges, Intake, Manifold, Pressure, Tachometer, Temperature, Turbo, Water
This entry was posted by Paul P. on Friday, March 25th, 2016 at 4:11 PM and is filed under
New Products
. You can follow any responses to this entry through the
RSS 2.0
feed. Both comments and pings are currently closed.