Our In-House Engineer's personal Scion FR-S
While most of us are pretty much desk jockeys here at TEIN USA (just kidding!), some of our staff enjoy spending their free time at the local race track. Local to us southern Californians is something like a 1 hour drive on average.
One such racing enthusiast is our very own in-house engineer, Shuichiro (a.k.a.- "GQ"). He occasionally takes one of his daily drivers to the track. He's currently driving his 2013 Scion FR-S. Prior to this, he had a well-prepared Honda S2000. However, there was one occassion where he tried to get all environmentally friendly and drive a Toyota Prius. Dunno what he was trying to do there. He was probably all like "I wanna be like Brad Pitt" or something. Don't get me wrong, he's still a true race enthusiast. That hybrid car stuff was just a phase we're trying to forget about…
But yes, he's an enthusiasts. Whenever he has the chance, he'll prepare his car for track duty. Being that he works at TEIN, that means he has access to any one of our suspension kits.
We are actually making his car our guinea pig for damper development, for both new product and experimental damper valving. Since it is easier to do so with our 2-way adjustable setups, we have him run our Super Racing coilover. Not a bad hookup for making him our crash test dummy! I mean, test driver. In the name of science!!!
The current build sheet for his FR-S is as follows:
*Exterior
Front lip spoiler: Revolution
Side skirt: Downforce Evasive (exclusive model)
GT wing: Voltex Type1S
Duck bill: Five Axis
Fender Spoiler: TRD
*Interior
Seat: Recaro SP-G
Harness: TAKATA Race 4
*Footwork
Coilover: TEIN SRC (Ft9kg/Rr10kg)
Wheel: Advan GT 18×9.5 +40
Brakes: AP Racing front big brake kit w/ 6 piston calipers
Brake pads: Project Mu
*Drive train
LSD: ATS&Across
*Engine
Intake: Revolution
Throttle Body: Revolution
Exhaust manifold: Fujitsubo SuperEX
Front pipe: Berk
Cat back: Fujitsubo Authorize R Type S (w/ burnt tip)
Oil cooler: Greddy
ECU: Ecutek
A very simple build. Nothing too over-the-top, and definitely a good platform for us to continue damper development on. In fact, the FR-S/BRZ has been one of the best selling of new vehicle platforms for us in terms of suspension sales!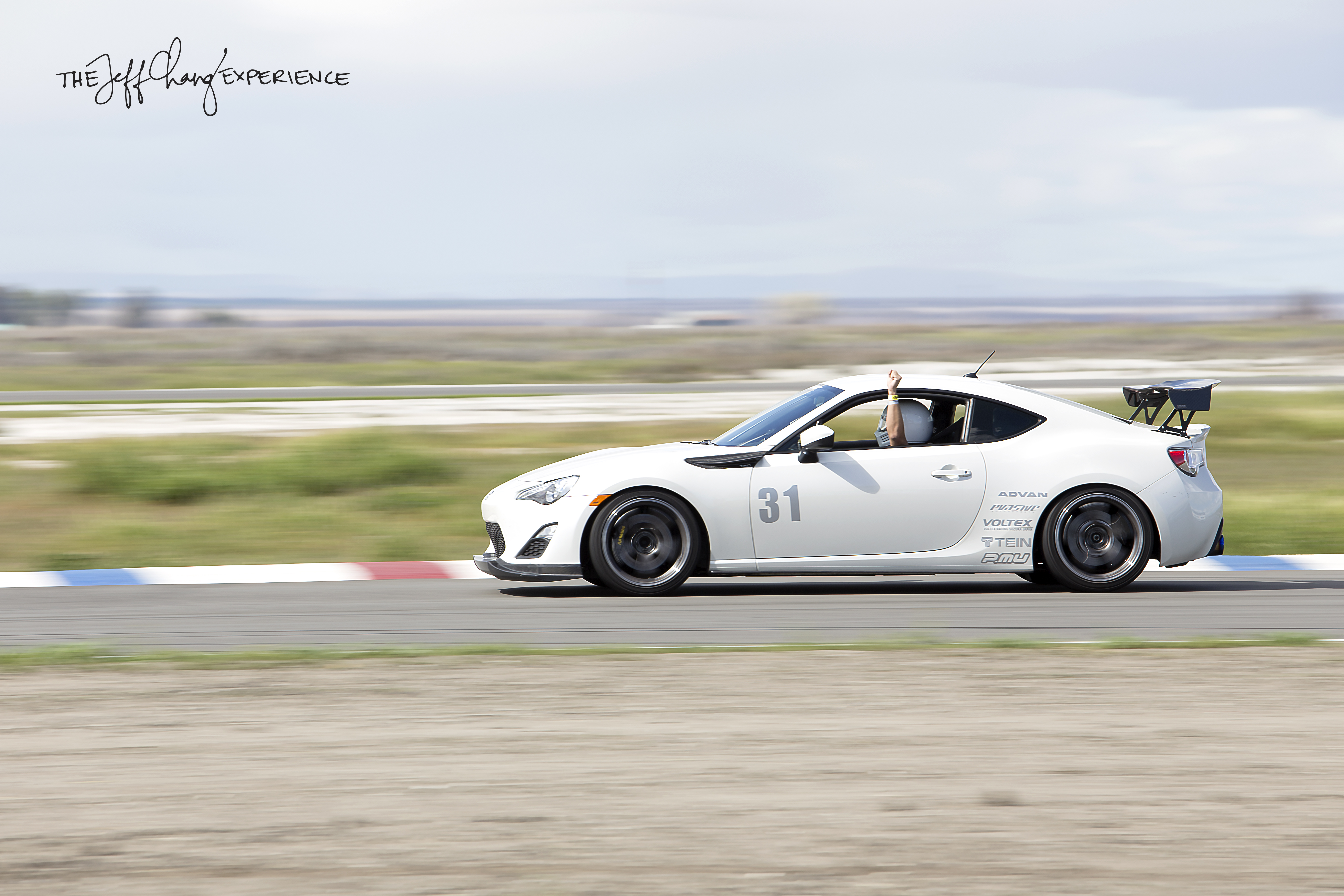 So, if you see him at events, especially around Buttonwillow, don't hesitate to say hi to him. Better yet, prepare a bunch of technical questions to ask him in case you run into him! He loves that kind of stuff. Apparently.
Tags: 2-way, 86, 86Cup, BRZ, Buttonwillow, FR-S, GQ Magzine, GT86, Man of the Year, Scion, SRC, Subaru, Super Racing, TEIN, Toyota, ZC6, ZN6
This entry was posted by Paul P. on Friday, March 20th, 2015 at 9:45 AM and is filed under
Featured
,
Project Cars
. You can follow any responses to this entry through the
RSS 2.0
feed. Both comments and pings are currently closed.