What Makes TEIN Suspension High Quality
Without a doubt, our cars face some of the harshest conditions. No matter where you live, whether it's high desert, or the extreme cold (with snowfall), vehicles have to operate to the best of their abilities.
TEIN's founders knew this full well when they decided to go into the shock absorber manufacturing business. As some of you may already know, our founders had a passion and career in rally racing, one of the toughest of motorsports for production vehicles.
Suspension, being a very important factor in terms of comfort and handling performance, must also operate in such extreme conditions. Also, it's placement (within the wheel wells, besides brakes, and, in some cases, near the engine), means that they must also operate through extreme temperature fluctuations. Suspension, among other vehicle components whether in commuting or racing, have to face some of the most grueling of conditions and have to provide consistent performance from start to finish, and that start to finish can last anywhere from a couple of minutes to nearly a full hour of continuous use. Or even a full day, like we've experienced in 24 hour racing at Nurburgring. A shock absorber (damper), by design, is really an energy dissipator, which means that it must convert kinetic energy (damper stroke) into heat energy, and that heat energy is not easily radiated/dissipated away from the damper. Because of that, a mechanical damper has to take some seriously high levels of abuse that many of us are unaware of.
Our damper oil has to be able to provide consistent performance during these temperature fluctuations. That means that the viscosity of the oil should also be consistent. Otherwise, the dampers will provide a very large range in damping force, which is not ideal and makes handling far less predictable.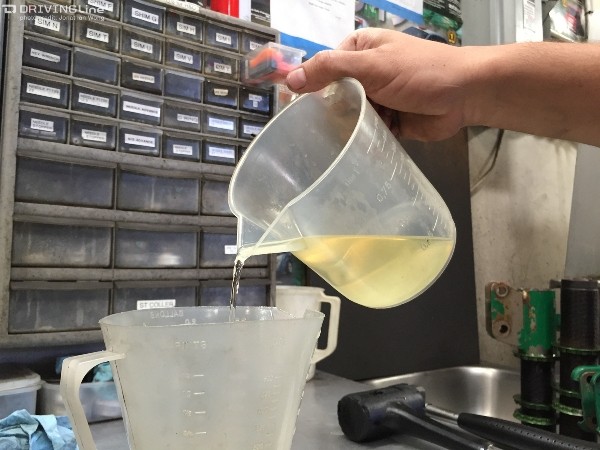 We use a proprietary grade of damper oil in order to maintain consistent performance. Some forms of racing, such as rally racing, put the oil under the worst circumstances, in some cases reaching temperatures as elevated as 320 degrees Fahrenheit. Engine oil typically sees operating temperatures near the 300 Fahrenheit levels as well , but from heat mainly transmitted from combustion cycles. So that just goes to show how much punishment our suspensions must endure. Even a short drive in your daily commuter can easily get street suspension into the 150 degree Fahrenheit temperature range.
Even the most basic material we use for our suspension, our steel damper bodies and lower brackets, are ultra high-strength, allowing us to make a light yet resilient structure for our shock absorbers. The use of ultra high-strength steel allows us to use less material for a given design application without sacrificing its strength. That translates to lower weight, especially compared to OEM suspensions.
We use several grades of aluminum alloy for components such as our spring seats/seat locks, upper mounts, lower brackets, and even damper bodies, all determined based on the types of use they are designed for. The most commonly used grade of aluminum is our 2017 series alloy (duralumin), followed by 6061 series, and 7075 series. Each grade is properly heat treated to provide us with optimum strength for its given application.
The spring steel we use is no different than what you can find from other well-known manufacturers, SAE 9254 vanadium steel. This material, when manufactured properly, provides an extremely resilient coil spring design, able withstand millions of strokes without sagging. Our manufacturing processes assure a worry-free spring for years and years of continued use, and that is absolutely critical for us.
We use cold drawn steel piston shafts. Cold drawing our piston shafts avoids having to use any type of coating or plating, which over time can be come brittle and break off the piston shaft surface. By cold drawing the steel piston shaft, it creates a near-finished and case hardened surface that only has to be polished for added low-friction operation. In the past, we had experimented with different low friction coatings. However, these proved to be short term, and longevity was our biggest concern.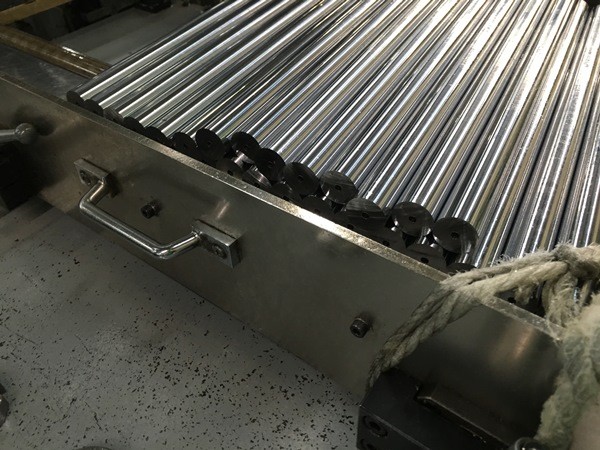 Our piston valves, critical in providing our required damping force for each vehicle application, are developed and manufactured in-house. We use a PTFE lining on the sliding surfaces of the piston valve. This low-friction coating allows the damper to do the work it's designed for, and not by account of friction caused by the sliding surfaces of the piston valve within the walls of the damper body. This extra step provides consistent damping force, no matter the internal temperature of the shock absorber.
We also use proprietary coatings to protect our suspension components, such as our patented ZT coating for threaded shell cases and adjustment tubes. This has proven to withstand some of the toughest weather and driving conditions in racing atmospheres to daily commuting. Our patented 2-Layer/1-Bake powdercoating process (adding one layer of zinc and another layer of our green powder paint), a process pioneered and used exclusively by TEIN, not only provides a very durable shell case coating against corrosion, but also improves our manufacturing efficiency. All of our coatings are constantly tested through our artificial aging and salt water spray testing, and even compared to other suspension manufacturers' coating methods, to ensure that we're providing our customers with a kit that will last for many years. All shell cases and brackets are surface treated to make sure proper adhesion of our coatings.
Lastly, TEIN meticulously tests and develops suspension kits for each and very application we make. In doing so, we also ensure that our customers are receiving a kit that will provide the greatest handling performance for their needs. For anyone that believes that our shock absorbers are the same for every single vehicle model, they are absolutely incorrect. One area we continually pride ourselves on is our research and development, a constant evolution of suspension technology, and an adaptation to the consumers needs for performance suspension.
We're always very proud of what we make. It isn't enough for us to simply rely on the name and reputation we've earned. We'll continue to develop the best performing and quality suspension at a reasonable price. When you buy a TEIN product, know that our continuous efforts go into making a high quality product for you to use for many years.