What to look for when buying USED coilovers
Many consumers may be mislead into thinking that picking up a used set is always a better deal than buying new. If you are interested in purchasing a set of used TEIN coilovers here are some tips on what to look for to ensure you know what your getting into.
The best scenario is to buy from a local seller so you can physically inspect the dampers before purchase. Many of the inspection points cannot be seen through camera images. Hidden damage can be costly.
Damper body damage. If the body has damage (dent or crack) this cannot be repaired.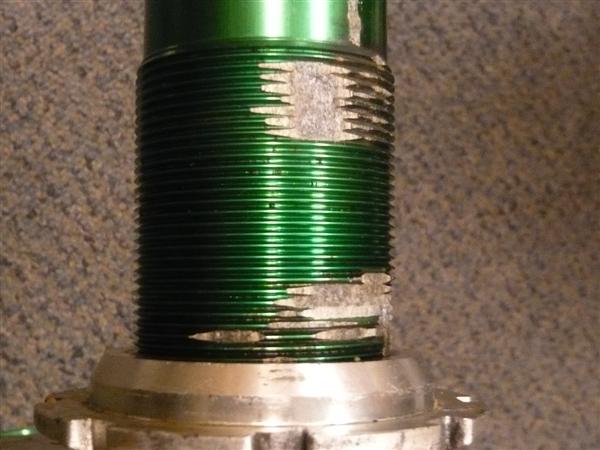 – Damaged or missing threads cannot be repaired. Our threaded sleeve is welded onto the damper or in the case above is the threads are part of the shock body.
Rust. Light to moderate rust may not be too big of an issue but if the rust is excessive the dampers may require pre dis-assembly during service to determine if any of the rust has moved inside the damper. If the damper has heavy rust it is deemed not repairable. We will not service any item we feel has any safety risk.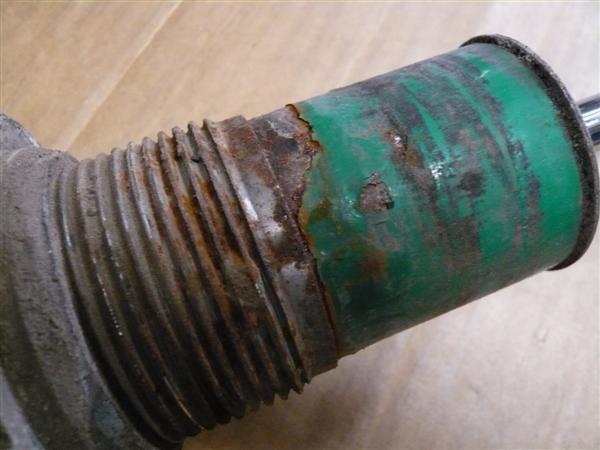 Oil Leaks. Any type of oil leak is an indication that the oil seal is damaged and must be replaced which is an automatic overhaul (starting at $75 each depending on product model).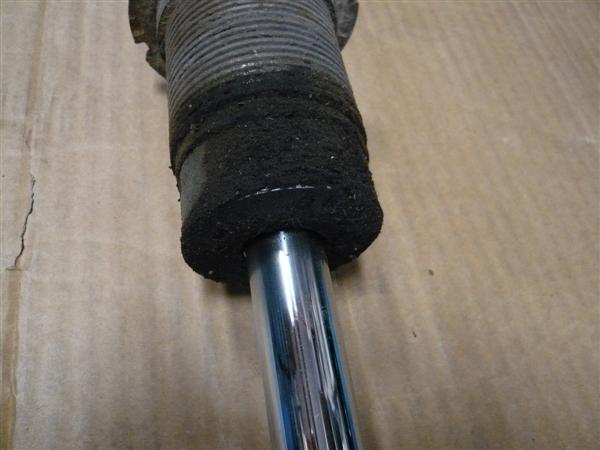 This is easily recognizable as an oil leak as dirt and grim has stuck to the leaking oil.
Piston Rod Damage. Light scuffs or scratched on the piston rod may be buffed out but  scoring,  pitting, or bent piston shafts would require a replacement. Replacement requires a new piston shaft and overhaul (Overhaul $75+ and Piston Rod $45+).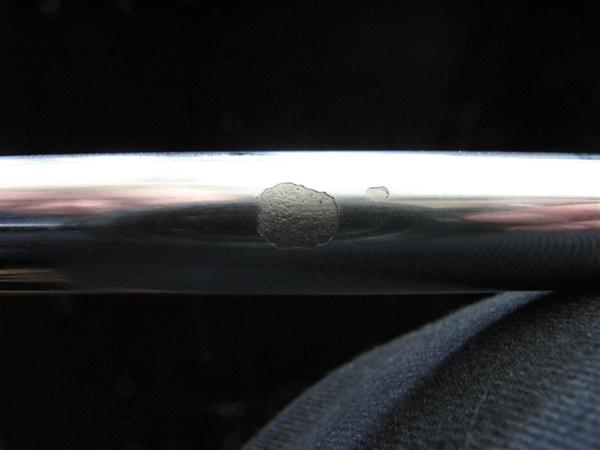 Large pit on the Piston Rod. Needs replacement.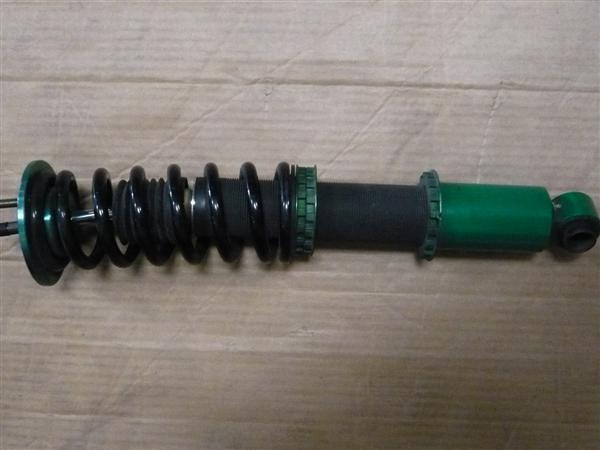 Bent piston shaft most likely from a car accident. Piston rod needs replacement and possibly other internal components as well. During inspection make sure the shock body and lower bracket are not damaged.
Poor maintenance. Seized or corroded seat locks may indicate little to no maintenance to the damper (may require the locks to be removed by either force which may break the lock or would need to be cut off and replaced).
Damaged bump stops and dust boots would indicate low ride height on the coilover. This could break down the bump stop and dust boot over time and can lodge pieces from either part between the main seal and the piston shaft causing damage to the seal. (Replacement Bump Stops and Dust Boots start at $12 each).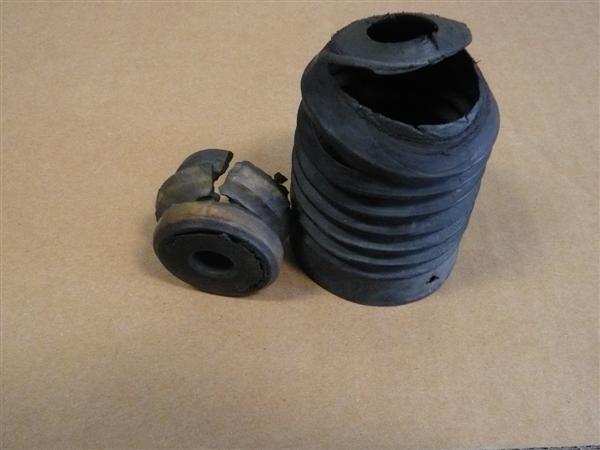 Signs of poor maintenance means that you need to pay special attention to the piston rod for damage. Broken dust boots, bump rubbers and excessive dirt are indicators that the piston rod was not properly protected leaving it more prone for damage.
Pillow mounts. If equipped with pillow mounts check for wear and excessive movement. Damage to mounting plate is not repairable. The only three serviceable items on a pillow mount are the serration bolts, pillowball casing and camber adjustment bolts.
Missing Parts. Many times used items are sold incomplete. If the unit is damping force adjustable make sure the adjustment knobs are intact. Some kits include sway bar link rods, rear Height Adjustment Systems (HAS), brake brackets, camber washers, etc… Ensure that the kit comes with the hook spanner wrenches use to adjust ride height. Installation manuals can be downloaded from our homepage here. It is a good idea to take a look at the manual prior to inspecting a used kit for purchase  so you know what the kit should come with. Replacing missing parts can add up quickly.
Damping Force Check. With the springs removed you can compress the damper. There should be smooth movement both on compression and rebound. If the damper does not automatically rebound, it probably has a blown seal and is in need of an overhaul. If the damper is damping force adjustable, try it at full stiff and full soft. There should be a difference in resistance or speed of movement.
Remember when inspecting used products that every little missing item, or damage is money you will need to spent to repair or replace it. A set of dampers needing repairs can easily add up to a total price exceeding the cost of a new kit. The key is to be prepared and know what your getting into.
TEIN does offer inspection service at our two facilities. Inspection on dampers is free of charge just shipping costs would incur to and from the TEIN facility.
Tags: inspection, pre-owned, second hand, used