1992-1995 Honda Civic Suspension Testing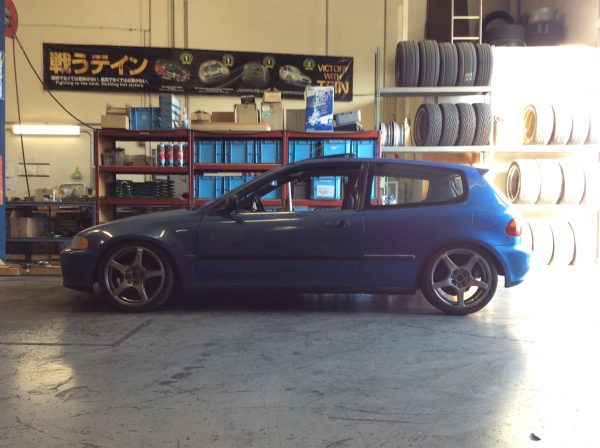 While this car has been out of production for well over 20 years now, we still find that the 1992-1995 Honda Civic is still a good seller in terms of our suspension products. Many older vehicles don't really fare so well when it comes to aftermarket parts. Many parts being discontinued due to little demand. However, Civics of this generation are still very popular platforms to modify, and there are still plenty of them on the road, whether in sedan, coupe, or hatchback form.
Many of our customers should be well aware that TEIN is adamant of technological innovation in suspension. In fact that is a huge part of the name "TEIN" (TEchnological INnovation). Year after year we always look into ways to improve our suspensions and we try, as much as possible, to offer various kits to make it easier for the customer to choose the correct kit for their needs.
With that said, we're still working on developing suspension for the '92-'95 Civic. Currently, we're working on the specifications for our upcoming STREET BASIS Z & STREET ADVANCE Z applications. While this line has been out for a few years now, we had yet to release it for these model years of Civic.
Why bother with testing, especially if we already have existing STREET BASIS and STREET ADVANCE coilovers? Why not just carry over the same specs of that kit to the newer Z line? That would be the easy way of doing it. However, we rely very heavily on customer feedback when deciding what spring rates and what type of valving we will designate for each application. Over the years, our customers' mindsets have changed. In the past, we were making suspension kits that were very aggressive in terms of springs and valving, mainly because the customers were expecting a very sporty ride feel. While great for track driving, they proved to be very harsh for the street, especially if it was for a daily driver.
Over the years, we've taken the time to revise our tuning philosophy for suspension. Making dedicated street suspensions such as the STREET BASIS and STREET ADVANCE lines, we wanted good performance with uncompromising comfort to be the emphasis.
That, along with other updated suspension components like our Advance Needle (for damping adjustable suspension), and piston valve designs, different shim designs, etc. , means that we must retest certain vehicle platforms to make sure there is no degradation in either performance or comfort. Simply trying to carry over an old specification into a new suspension doesn't always work out so well.
So, back to testing the '92-'95 Civic and finding that good balance we're looking for! Actually, since we're on the topic of this car, we're planning to revise the spring rates for the front (from 7kg/mm to 9kg/mm). That may not sound logical, since we're trying to set up a good street kit with ample comfort. But, with the prototype valving we're testing on it, it is working perfectly!!
Oh, and I forgot to mention- look for the new STREET BASIS Z to start around $450 and STREET ADVANCE Z at $550 for this platform Civic when it's released later this year!
Tags: Civic, Coilover, Coupe, EG, eh, hatchback, Honda, sedan, street advance z, street basis z, suspension, TEIN
This entry was posted by Paul P. on Friday, July 21st, 2017 at 4:02 PM and is filed under
Now Testing
. You can follow any responses to this entry through the
RSS 2.0
feed. Both comments and pings are currently closed.