Global Time Attack's Super Lap Battle 2016
This week is the Super Lap Battle Time Attack event at Buttonwillow Raceway Park, hosted by Global Time Attack.
Damn, that's a mouthful to say…
Anyhow, we've continued to attend the event for the past 6 consecutive years now. Our main purpose is to check out how the event goes, see how it has grown, and also to assist any teams/drivers that are using TEIN suspension.
For the most part, most teams/drivers are pretty experienced with their setup. So it's not like we're trying to rearrange everything they've setup and working for them. We just want to see how we can extract a bit more performance with a little bit of tuning. We bring one of our in-house engineers to speak with the driver and get feedback on how the car feels. From that, we are able to make an assessment on whether any changes to the suspension should be made, or if some other aspect should be altered. Funny enough, tire pressures tend to be overlooked.
The past few years has really just left us looking like spectators, however. Again, most of the teams have their race cars sorted out. So there isn't much for us to do except check out the progress of each session.
For this year, we really only know of two teams on TEIN-equipped cars competing. Evasive Motorsports is bringing their R35 GT-R to run in the Unlimited AWD class, and Sport Car Motion (SCM) has their DC2 Type R Integra in the Limited FWD class. Both teams using our Super Racing damper kits.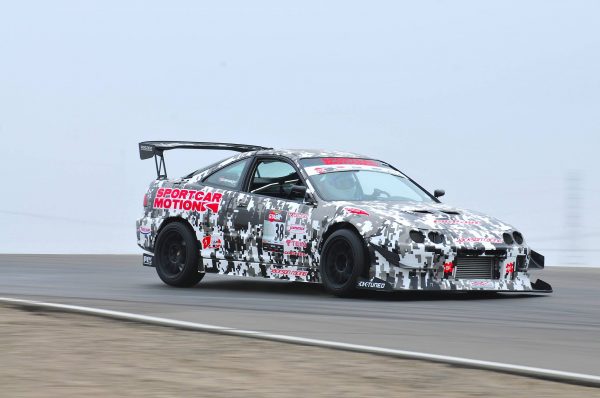 The SCM Type R has proven to be plenty fast, mainly because they know how to extract the most out of their Rotrex-charged K24 engine setup. [Not] oddly enough, their Super Racing dampers are completely off-the-shelf. No changes in valving, and spring rates are per our recommendation. We did a refresh on the dampers last year, but unfortunately the car couldn't make the event. Considering this specific Super Racing kit was on the team's previous EG Civic race car, and that it has just over 6 years of use, the dampers were due for a rebuild anyway. We look forward to seeing the Type R run again this week!
Evasive Motorsports has only taken their GT-R, in its current iteration, to a couple of track days. Back when the car had the very basics (our Super Racing dampers, racing brake pads, upgraded wheels & tires), they were using our recommended setup. Now, with a slightly wider body and more aero additions, we've uprated their springs. Other than that, the Super Racing dampers have our 3-way units installed, but valving has been kept as out-of-the-box. Wheels are a bit larger now, and they're using a much more sticky tire. On its maiden voyage in this setup at Buttonwillow, the car did something in the neighborhood of a 1:47.00 lap time. No time spent trying to fine tune anything, and that's what they run……… Damn. We weren't expecting something that quick for what is essentially a still very street-bound car with full interior, full amenities. While we would love to attribute this shockingly fast time to our dampers, the fact is that Evasive Motorsports aren't any slouches when it comes to building a proper car for the track. We'll see what else the team does to knock down a couple more seconds from the timer.
Other than those two cars, which would keep our engineer busy enough, we've yet to hear of anyone else that may need our assistance. But, as I mentioned, they probably don't need our help……
……….. You know what,,,,, this is just starting to sound like an excuse for us to just go and watch some racing! Don't tell my boss…
Tags: Acura, Buttonwillow, Car, Coilover, Damper, DC2, Evasive, GT-R, GTR, Honda, Integra, motion, Motorsports, Nissan, r, R35, sport, SRC, Super Lap Battle, Super Racing, TEIN, Time Attack, type