Identifying FLEX Z Coilovers
Honestly, there really isn't much of a difference from FLEX Z to STREET FLEX dampers physically. Really, the only thing, other than verifying the part number on the bottom bracket (silver Caution sticker), is to check the damper itself.
As we have mentioned, the FLEX Z dampers are fully sealed units, which mean it cannot be rebuilt. However, identifying what a fully sealed damper looks like may not be so easy for some. So, here are a couple things to check for:
Silver (Caution) Sticker-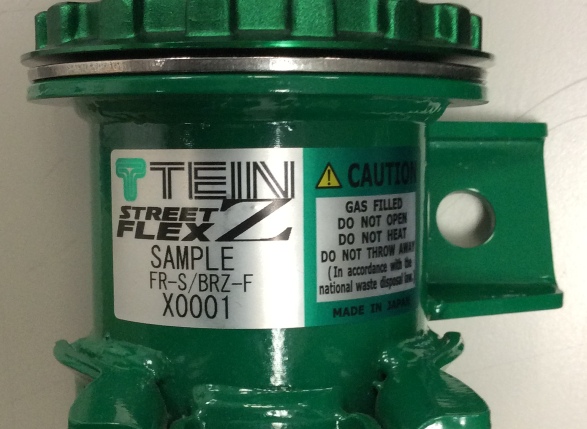 This sticker not only shows the product by name, but also the part number (where "SAMPLE" is listed), listed as a 10 digit alphanumeric (ex. "VCQ54-U2531"). If, for any reason, you can only see a part number and not the product name, give us a call and we can verify what kit it really is.  As you can see, we also list the vehicle application (typically by chassis code), and the lot number (bottom 5 digits, alphanumeric).
But, if you have a chance to inspect the dampers yourself, you can check out the top of the damper body shell case-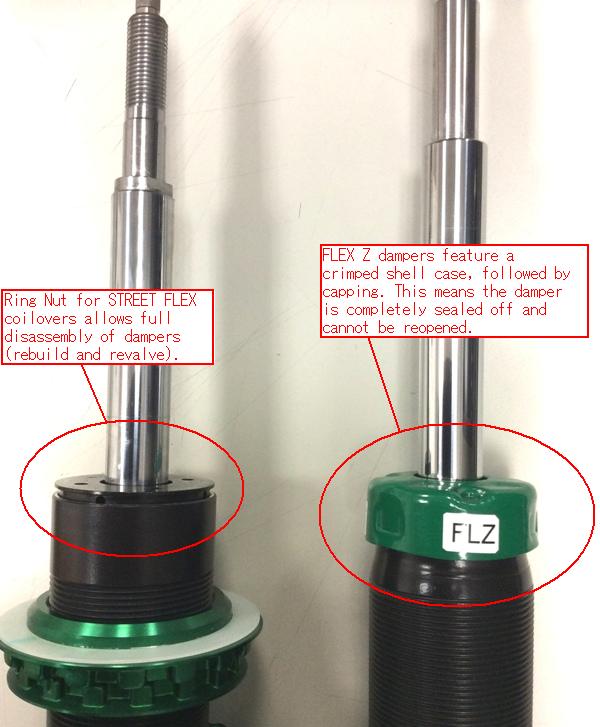 As you can see in the picture above, the STREET FLEX coilovers (and current models of STREET BASIS & STREET ADVANCE coilovers) use a Ring Nut to seal off the damper. This allows us to fully disassemble the damper and service the unit. This also lets us revalve dampers by giving us access to the piston and base valve assembly.
The FLEX Z, on the other hand, has been fully crimped and capped. This means we cannot reopen the dampers at all. In the event the customer has a worn out FLEX Z damper, they can simply purchase a replacement damper body only (no need to purchase the bottom bracket, seat locks & spring seat, spring, or upper mount). Then all that is needed is to swap some of the original components back on to the new damper body.
We certainly hope this helps you find any major differences between the two FLEX line of coilovers, especially down the road when people may resell their FLEX Z coilovers and list them as STREET FLEX. We believe it's worthwhile knowing how to spot any major differences.
As always, if you are not sure of how to identify our products, give us a ring! We'll be glad to help!!!
Tags: Coilover, Damper, FLEX Z, Overhaul, Rebuild, Revalve, Street Flex, TEIN
This entry was posted by Paul P. on Thursday, August 13th, 2015 at 10:53 AM and is filed under
Tech
,
Uncategorized
. You can follow any responses to this entry through the
RSS 2.0
feed. Both comments and pings are currently closed.